What is Angoname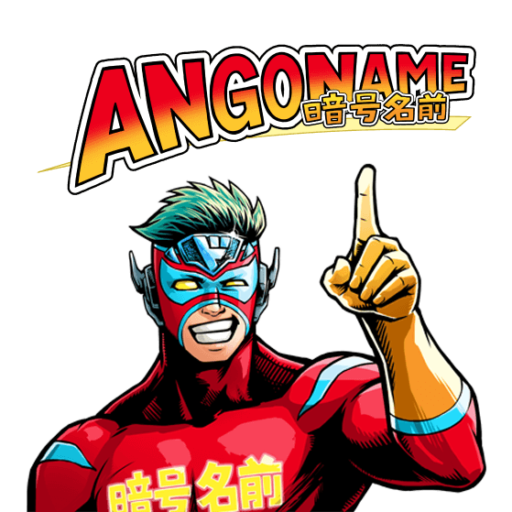 Bacoor Inc. has designed Angoname as an Exclusive Secondary Blockchain Domains Marketplace.
In short, users can purchase and resell popular Blockchain Domains as .crypto, .coin, .wallet, .bitcoin, .blockchain, .x, .nft, .dao, etc. directly on Angoname.
On the domain search result page, Angoname will display all results from original providers as Unstoppable Domains to the ones from independent retailers.
Angoname is also fully decentralized as everything users need to start interacting is sign in with an Ethereum Wallet without any prior registration.
What is Blockchain Domain
The Foundation
Blockchain Domain basically exists as an NFT on the mainchain of Ethereum Blockchain.
By the end of 2021, Blockchain Domain NFT will come to Layer 2 as Polygon to reduce fees from claiming to reselling.
As long as one holds a Blockchain Domain NFT, that person is the only owner of the domain that based on the NFT.
Permanent Ownership Verified by NFT
The fundamental difference between Blockchain Domain and Regular Domain stays in their nature of ownership.
For Regular Domain, your role is more like a tenant rather than the property owner. If you forget to pay the renewal fee, your domain will be gone after sometimes.
Blockchain Domain offers a completely different experience, you only pay once at the beginning. No renewal fee, ever.
It simply means you have a full and permanent ownership on your domain. The ownership is verified by the Blockchain Domain NFT, which stays within your wallet.
It also means you can transfers the ownership to anyone by sending the NFT to the new owner.
The last puzzle of Web 3.0
Blockchain Domain lives on alternate roots, which are not part of the current DNS/ICANN system.
This nature lets domain owner stays anonymous at all time as no personal information is required to obtain a Blockchain Domain.
It is the last puzzle of web 3.0 which embraces open, trustless and permissionless networks.
A Multichain Address
Now, you can replaces original Blockchain Addresses with a single Blockchain Domain to receive Cypto.
It supports a wide range of addresses from Bitcoin to Ethereum, Cardano, etc.
You can access the full list of supported Cryptocurrencies in our docs.

Build A Website with Blockchain Domain
At the time of this article, anyone can build a basic website with the Unstoppable Domain Builder.
You can also build a website from scratch by coding everything and uploading to the internet through IPFS (InterPlanetary File System) protocol.
Angoname: An Exclusive Secondary Marketplace
Connect to Angoname
To use Angoname, first, you need to connect to the platform through Ethereum Wallets as Metamask or KEYRING PRO (Wallet Connect)
Metamask
Open Metamask
On Angoname, click 'Connect a Wallet'
Choose Metamask
Click 'Sign'
Wallet Connect
Open KEYRING PRO (Download Links)
On Angoname, click 'Connect a Wallet'
Choose Wallet Connect,
Scan the QR Code with KEYRING PRO and tap 'Sign'
Buy Your Domain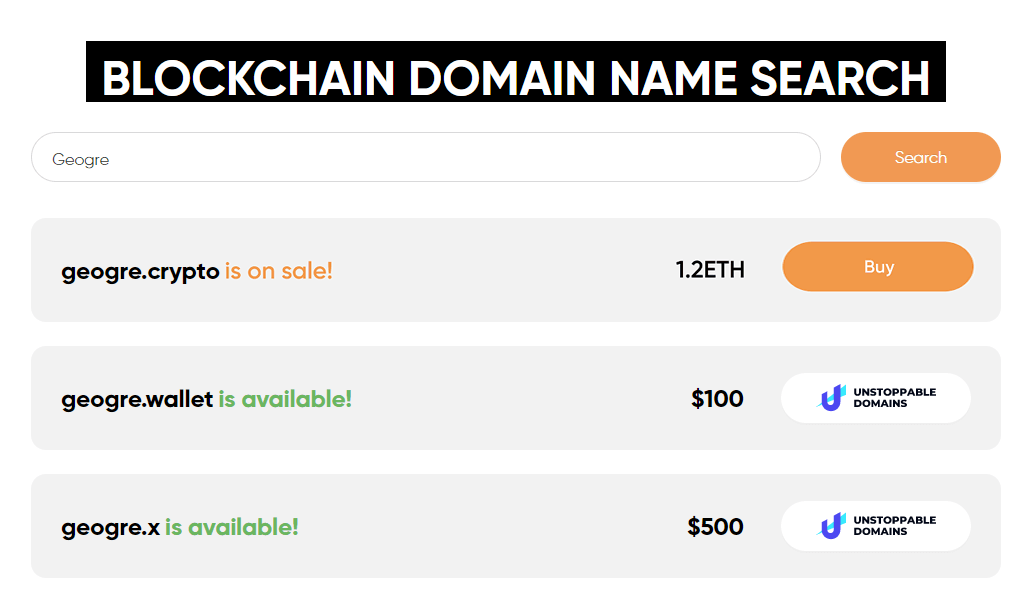 You can purchase a Domain by start searching on Angoname's search bar. A domain may come from Unstoppable Domain, or an independent retailer.
Once you find your desired domain, just pick it.
From Unstoppable Domain
You will be redirected to Unstoppable Domain to check out.
The complete check out process can be found on our docs.
From Independent Retailer
You can check out instantly on Angoname by heading to the checkout screen.
The payment process will be completed once you connect your Ethereum Wallet, then pay the retailer.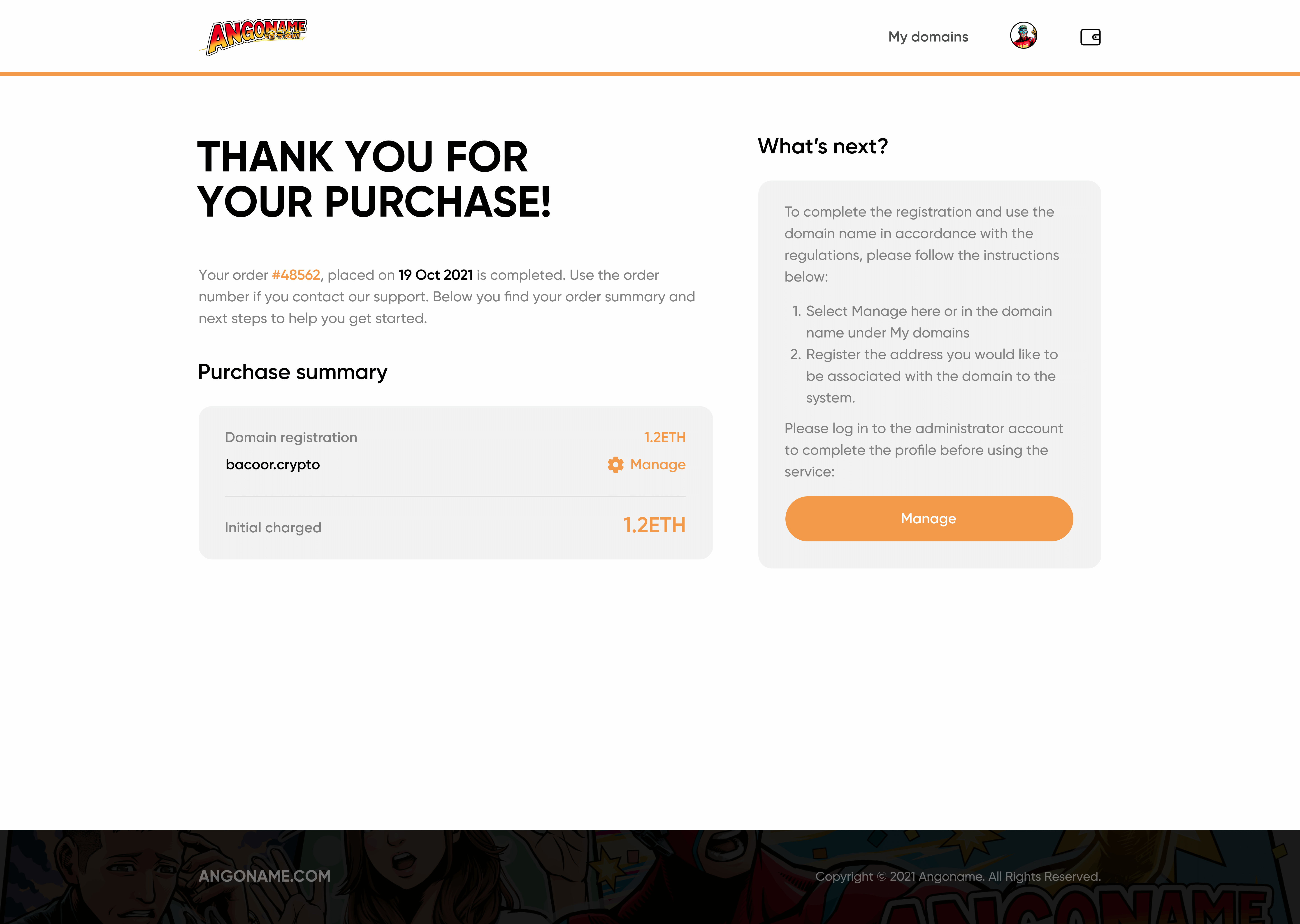 Sell Your Domain
It only takes a few simple steps to resell your Blockchain Domain on Angoname.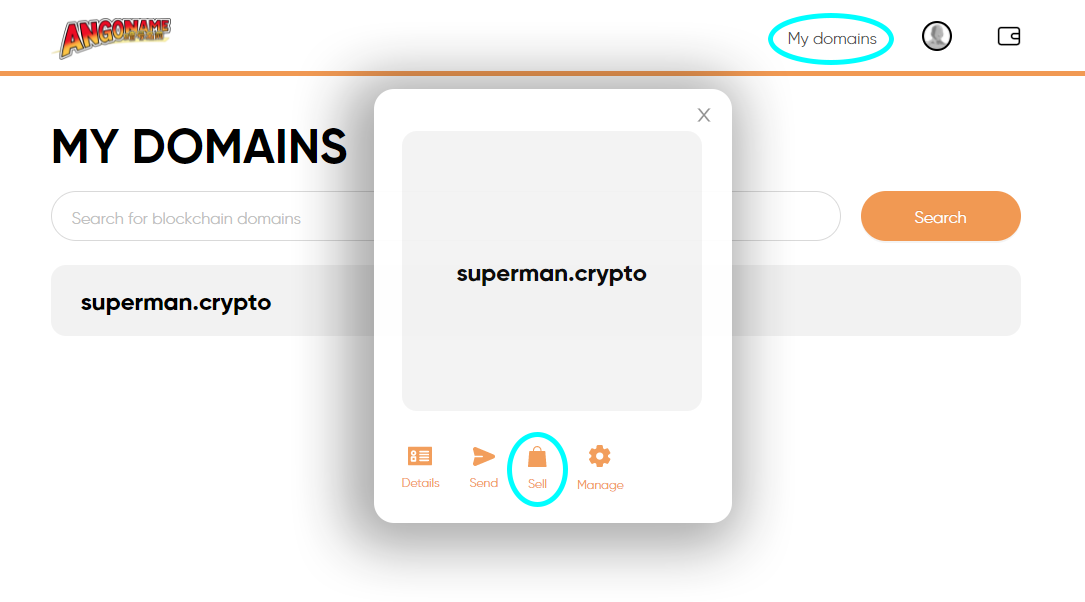 Go to 'My Domain'
Choose any domains that you want to sell
Click 'Sell'
Set a desired price in ETH, set the gas fee
Click 'Set'
Retrieve Your Asset
You can always retrieve your domain or change the selling price at anytime on Angoname.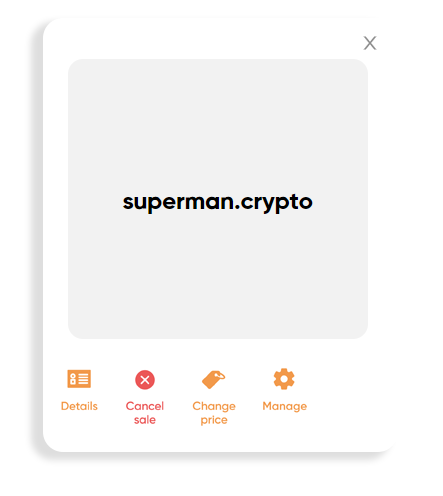 Angoname FAQ
To get more detail of Angoname, you can access Angoname FAQ at support.bacoor.io/angoname/faq