What are crypto domains?
Cryptocurrencies are very interesting to follow. When researching a cryptocurrency or a blockchain network, you'll be lucky enough to find a white paper or a link to BitcoinTalk page. But this certainly targets towards developers or professionals in the crypto world.
If you ask for a powerful tool to help "beginners" enter the meta world and earn money, crypto domains turn out to be a good investment.
Crypto domains are domains built on blockchains, meaning that each domain name is a non-fungible token (NFT) stored inside a user's cryptocurrency wallet.
Crypto domain names system and Web 3.0
In a sense, crypto domain names systems are proved to be as valid as the traditional DNS. While the traditional DNS comes with a long waited approval system, on the blockchain, using something like a domain service, anybody can launch anything.
Nice! This may make cryptocurrency payments as simple as sending an email.
Crypto domains aim to promote blockchain adoption in the same way that website addresses do in order to take a full advantage of the Internet.
At its core, the idea of crypto domains is to make decentralized tech easier to use.

Are crypto domains worth it?
Crypto domains are used to store data securely. It is simple to access but tough to delete.
Assets stored in the crypto domain only belong to the owner, which cannot be censored, acting as the access point for building decentralized websites.
Basically, whoever owns the private key is the only person that really has access to the ownership of that crypto domain.
Crypto domains offer many opportunities
Using crypto domains, a user has more functionality as compared to the traditional domains.
Typically, we understand a domain address is where we will be taken to a website to view content.
Crypto domains can also host content. For example, if you own an NFT gallery and you want to sell those NFTs, you would need a crypto domain to build a website.
More commonly, crypto domains are used for payments. These crypto domains work inside hundreds and thousands of wallets and exchanges. In this case, a easy-to-remember domain would make users easier to use.
Furthermore, domains with one word, which can be registered now for a few bucks, will be worth on any marketplace after a period of time grands  to a hundred grands.
Crypto domains bring flexibility
Now any cryptocurrency wallet address on a blockchain is a string of long, random characters and numbers.
Imagine you need to send assets, a blockchain address is hard to remember, and you don't want to check your wallet again and again to do the copy-paste thing. This is definitely time-consuming and will eventually lead to a mishap.
For example, you would like to send someone money in your crypto wallet, and instead of having to go and find his crazy long 30 characters IPFS hash, you can just type in something like Teddy.crypto and see his decentralized website.
So, just like how it works with the Internet's consumers today, most crypto users lean towards a prestige crypto domains name service to make this blockchain technology easy enough to use and go mainstream.
The most popular top level crypto domains sites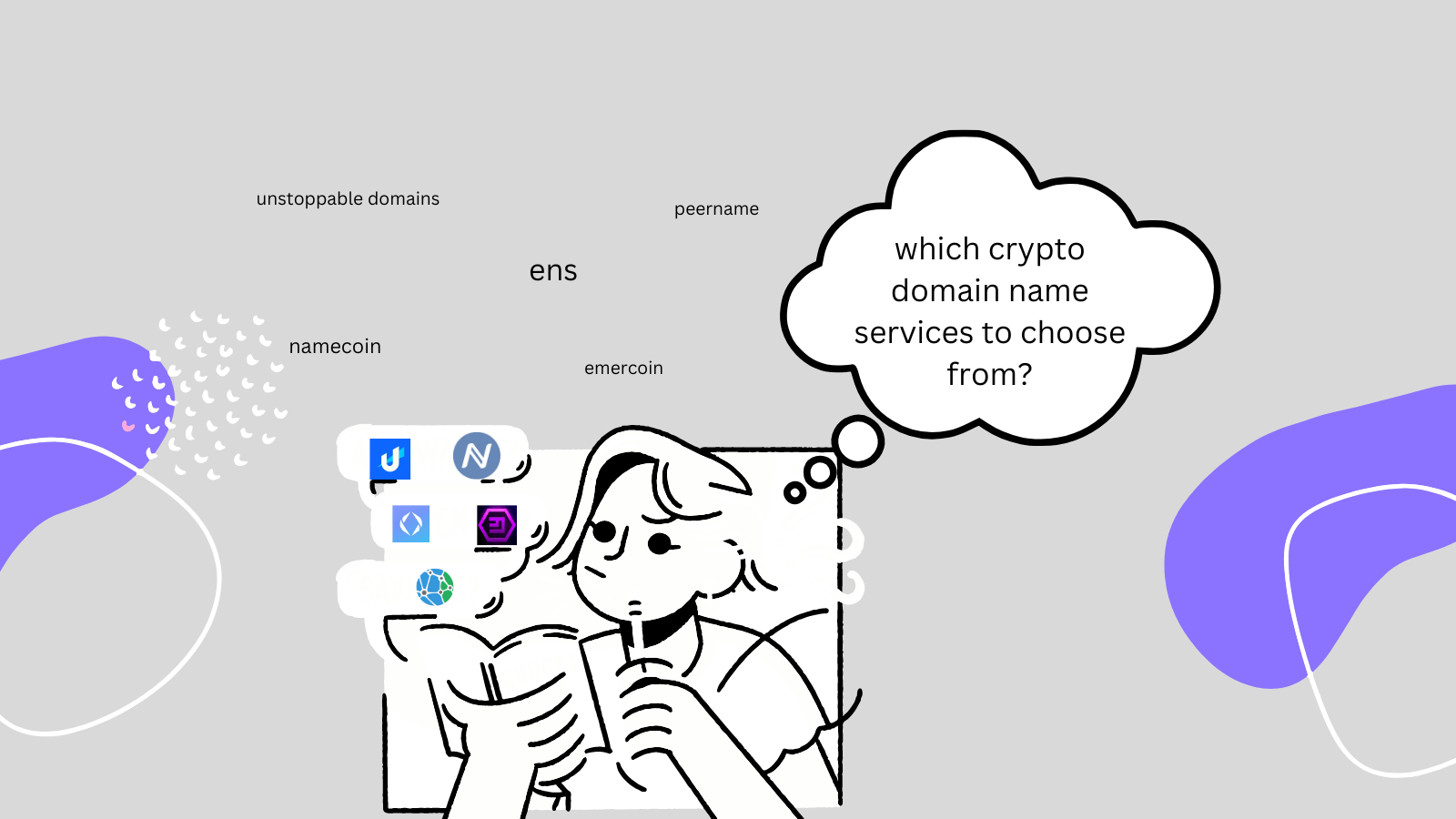 Unstoppable Domains – you actually "own" your domain
Ethereum Name Service (ENS): .ETH makes it popular
Namecoin: from Bitcoin fork to a domain name project
PeerName: low-cost competitor
Emercoin: Decentralized SDK
How to buy crypto domains
This is relatively easy and can be completed in a few simple steps.
Search for a domain you would like to buy. You will see a list of names that are available.
If you agree with the price listings, click in "Unstoppable Domain" button to check out.
After you complete the purchase, go the Unstoppable Domains dashboard to do the next steps
Wallet connect either MetaMask or KEYRING PRO. 
Then you can claim your crypto domains and view in "My Domains".