What is a market capitulation?
It is a term used in stock market, describing the point when investors sell all their investments. It also refers to the point when market hits rock bottom.
The overall crypto recession has cause a drop in BTC price and a more and more unpredictable market. A lot of pessimistic investors have become "bears" who have believed that the downward spiral would continue and they'd rather sell all in order to prevent further losses.
Indeed, when the bottom price is reached, it is even harder to predict the market trends, especially for inexperienced investors.
How can we spot a market capitulation
In order to spot a market capitulation, there is no way to use a wide range of different indicators to build a picture.
Usually, market capitulation is marked by some of the following events
Bankruptcies
FTX would be the big one, and the cascading effect to other players has sent ripples through the market.
Doldrums
Obviously, before the FTX's collapse, the market was way too quiet. Very few people was coming to the market, trading volume dropped along with the price, transaction count recorded on the network was low.
Celebs capitulating
Tom Brady's ambassador role in FTX was taken off as his 2021 investments was at risk. The story around his divorce with Gisele Bundchen has dominated the media since NFL season started. Even though how deeply Tom Brady was involved FTX remains unclear, there have been rumors emerging online that the FTX's collapse puts an irremediable strain on his marriage.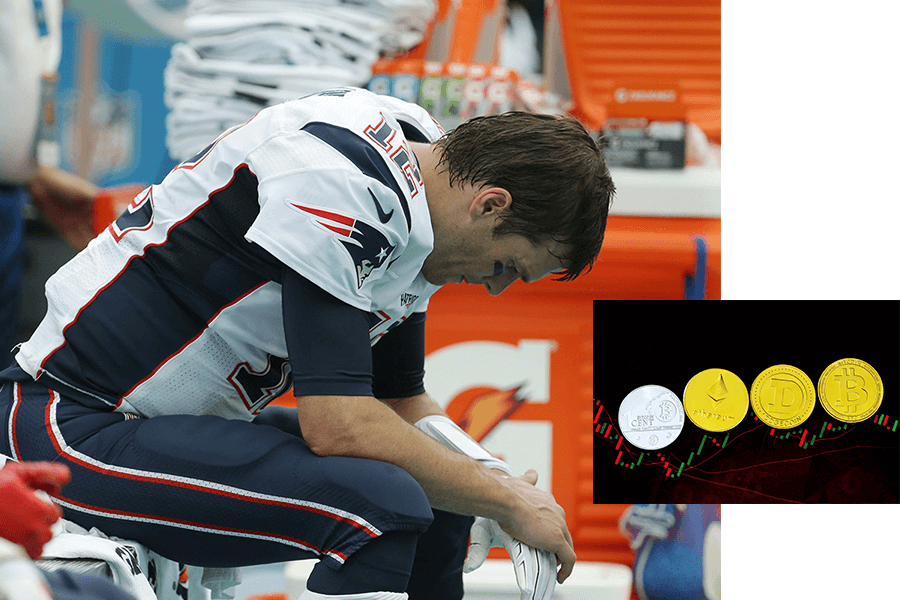 The "I can't take it anymore" pain point has affected a lot of investors who would throw everything in a towel and liquidate their assets. Since most celebs have been known to invest much of their fortune into cryptocurrencies, they would lose a pretty huge amount of money during this crazy time. 
Sentiments
Among those indicators, sentiment is seen as one of the most important measures to see how far we can go through this market capitulation. Unsurprisingly, sentiment is in the gutter right now. 
For example, bitcoin sentiment remains poor. However, that could change in the short term. Investors confidence may also improve. 
Key Takeaways from the market capitulation
Market Sentiment
Sentiment indicators are really important. Following FTX's collapse, leverage is unwinding cross the crypto ecosystem.
That being said, FTX and the resulting contagion has been a punch in the gut for markets. The panic is real, many people have lost everything on FTX.
Solana is a L1 blockchain that is leading the crypto crash losing about 32% of TVL in 24 hours after the FTX collapse. Then, dYdX – an Ethereum-based DEX – has placed Solana trades in "close only" mode so that users will only be able to close their current positions and can't open new ones. Other altcoins are quickly losing customer confidence. There were also fears that some high ranking exchanges will face insolvency issues.
While further contagion in the coming weeks is possible, the size of the fallout associated with recent events is still promising.
How Market Capitulation affects Bitcoin trading
Reports show that huge outflows of Bitcoin from exchanges have happened. Market analysts noted that over 130K BTC have been withdrawn from exchanges.
New yearly lows have hit for Bitcoin. Bitcoin's market cap in the month of November fells slightly down to 0.3%.
Miners have been under pressure and seem to be capitulating as their profitability has compressed significantly.
Will that mark another historic global market capitulation when BTC was trading below its cost basis?
Surprisingly, on-chain data shows a ray of light in a dark market with an increase in activity and even new users. Despite FTX's fallout has wiped out billions from the market, it does not seem to shaken people conviction's in Bitcoin.
Looking on the bright side of this Market Capitulation 
While it remains difficult to predict the exact point of capitulation, obviously, when this capitulation is over, chances are the upside is near.
Who has shut off #bitcoin #btc mining. Last bitcoin block found over 30min ago, this is a 15-25% drop in total bitcoin hashrate across the network. Someone large or several just powered down. pic.twitter.com/8OWLX7cRa0

— Bitsbetrippin (@BitsBeTrippin) November 21, 2022
Despite shocks to the crypto ecosystem, bitcoin's fundamentals appear to be stable. Particularly, mining difficulty remains neutral, miner revenue seems bearish, but the transaction volume and locked supply mark bullish.
Moreover, signs of increased adoption and price recovery have presented. On-chain activity indicates a healthy growth in the number of new BTC addresses.
This makes sense because every major bull run is believed to have a relative impact on how the price of BTC and other cryptocurrencies change.
Yet, the likelihood to strike back to $20K and above is slim.
One noteworthy thing during this market capitulation
While BTC puts in a new low in 2022, Ethereum did not. In fact, ETH has shown a lot of strengths.
While all of the usual capitulation signals are indicating that we're likely near, there will always be a wild card.
Ethereum has continued to be a strong coin in the market due to increasing demand and good staking rewards. 
Long story short, market capitulation is not temporary. It needs a long time to recover. The silver lining is that it does give the industry a chance to think outside of the box to gain more users in the long term. 
We're not strangers to the immense potential of the metaverse. Continuing to build out the decentralized foundation of a better tomorrow is more important than ever. Join Angoname for a better domain name and start onboarding with web 3's world.