Instead of providing a human-readable string of letters as an IP address, a decentralized web3 domain acts as a stand-in for your cryptocurrency wallet. These Web3 domain names may be sold on exchanges like Solana's Solsea or OpenSea as nonfungible tokens (NFTs), which are essentially digital certificates of validity.

What are Web3 domains?
The third version of the internet, Web3 or the read-write-trust web, is supported by blockchain technology, smart contracts, cryptocurrencies, NFTs, and other decentralized technologies. 
Because it is dispersed throughout a network of computers rather than being managed centrally, it is more secure and robust. A web3 domain name replaces the traditional domain name system (DNS) as another development brought about by the decentralized web.
Blockchain-based DNS addresses known as Web3 domain names let users construct and maintain their own customized domains. They are wallet addresses for the users. Users can trade the decentralized crypto domain names on NFT exchanges. 
The following domain extensions are used by Web3:.eth,.crypto,.dao,.blockchain,.nft, etc. Accordingly, you must use a domain registrar that supports web3 to register a domain name, such as Ethereum Name Service (ENS), Unstoppable Domains, and Angoname.com
The present restrictions of a typical blockchain make it challenging to utilize and have decreased its appeal. A typical wallet address looks like this: 0x483add48edbd9f83fb5db0289c7ed48c83f56992. This would frighten off the average person, which would prevent adoption. IP addresses have the same issue, which the internet had to go over in order to become widely used.
The future of Web3 domain names
ENS is a development in the accessibility of blockchain engagement. We could see an increase in ENS names as a result of its use and rising popularity, just as we stopped using IP addresses to access the web.
Web3 hosting will make businesses more open and customer-focused. In the future, people, applications, and websites will employ blockchain-based domains to give consumers access to the decentralized web. Also, this opens the way for blockchain.
Related article: What can you do with NFT domains? How to get your own domains?
How to buy Domain?
You can either search for them on Angoname, or search for secondary sales on an NFT open market as OpenSea (more expensive).
To get a domain, please follow the steps below. (These steps are applicable for the rare ones as well.)
Search for a domain using this combination: [adjective] + [animal] (see the full list).
If you can find one with *.crypto (Example: happymouse.crypto), congratulation!
Click the button 'Unstoppable Domains' to check out.
After you complete your purchase, on the Unstoppable Domains dashboard go "My Domains" and claim the Animal Domain to your wallet.

You can view your NFT by linking your wallet to OpenSea.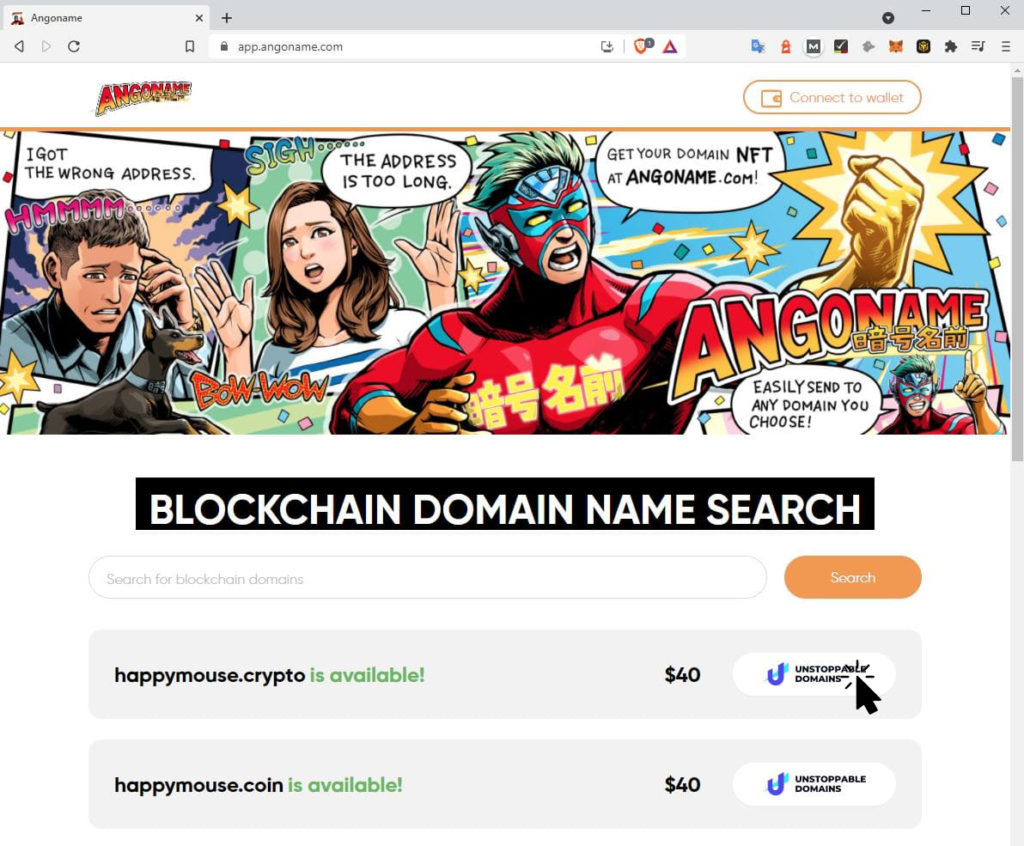 How to sell Domain?
Go to Opensea
'Connect your wallet' with KEYRING PRO Wallet Connect, or use Metamask
Go to 'My Collections'
Click on your Domain
Click 'Sell'
Set the conditions, and the price in ETH
Click 'Post your listing' (You will need to pay Ether gas fee to approve your NFT on Opensea)