What can you do with NFT domains?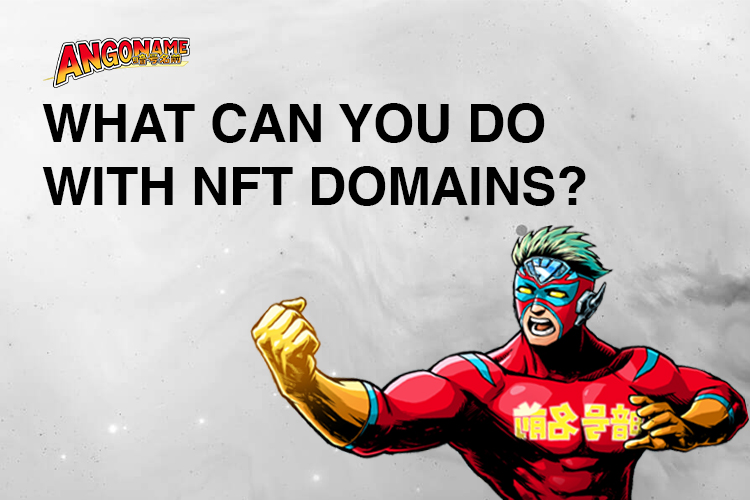 You might be wondering what you can do with NFT domains. 
In this post, we'll look at four current use cases for NFT domains that provide you with complete control and ownership over your digital identity. Hence, we'll also discuss potential use cases and features.
Make Crypto Payments Easier
Today, none of us give out our bank account numbers to strangers. Why should we do the same with crypto, when account numbers are much longer? Convert all of your cryptic wallet addresses into a single, easy-to-understand username. You may use your NFT domain as a username for sending and receiving crypto and NFTs because it maintains all wallet addresses. You only need to link your crypto wallets to your NFT domain. It's safe, secure, and eliminates the effort of copying and pasting large strings of numbers and characters for you (and your friends).
You and your pals will never again have to worry about sending bitcoin money to the wrong address. Your fear about supplying the incorrect address will be erased if you offer your sender a legible and easy Blockchain domain.
Log in with your NFT Domains
Say goodbye to the days of creating separate user identities and passwords for each program or website. You may log in to Web2 and Web3 sites and apps using your NFT domain in a secure and easy manner. Consider your NFT domain to be a single sign-on service similar to Google Login, but better because it belongs to you. More significantly, you have complete control over your data and may provide specific permissions to any platform. We're putting in a lot of effort so that you may benefit from web3. Angoname cooperating with Unstoppable Domains, unlike other single sign-on solutions, allows you to choose which applications have access to your data.
We intend to release additional superpowers in the future that will enhance your online experience without jeopardizing your ownership or security. For example, we'd want to provide a simplified registration procedure with a one-time proof of humanity solution, so you don't have to prove your identity every time you join a Defi app or a new wallet. Another example is the opportunity to speed up the checkout process by pre-filling your payment and delivery information. All of this will be done while protecting your privacy and control over your data.

Create and Host Decentralized Websites
You may construct a decentralized, safe website by referring your domain name to a website hosted on a peer-to-peer hosting platform like IPFS. It is less likely to have your website go down since it does not rely on a centralized server. Starting by using one of our pre-made templates to build a website. Alternatively, if you already have a website, you may host it on your NFT domain. Accordingly, you may use your NFT domain to link to an existing IPFS hash or to redirect a regular website. Show off your NFT collection by creating a gallery-style website, like the one below, to exhibit your amazing collection.
Angoname is laying the groundwork for unleashing all of the superpowers that your NFT domain possesses, and we can't wait for you to join us. Angoname.com offers YourName.crypto,.x,.nft, and a variety of additional endings.
Products' Ownership
When a collectible, an image, sound, or text is associated with an NFT, the token technically verifies that the digital copy of the underlying asset is a legitimate copy of the original work. In this way, the purchaser of an NFT owns the token. Accordingly, the digital version of the work is transferred with the NFT when it is given to someone else. In a similar fashion to property rights, this arguably provides factual ownership over the associated digital object.
As an example, consider a real sneaker. In this situation, an NFT will accompany the tokenized sneaker as a document of title or authenticity (or both) rather than the sneaker itself.
Blockchain verification does not always address the standard authenticity difficulties that come with real goods. Indeed, NFTs can verify who owns a token and how it was created and related to a product.
Music
Musicians have wrestled with the problem of IP ownership since the advent of the internet. They've battled third parties that have taken money from them through music downloads, licensing, streaming, merchandise, and other means.
Because of blockchain's immutability, musicians will be able to self-publish, copyright, distribute, and communicate directly with fans. We're excited to see musicians reclaim ownership of their work by using decentralized systems to mint audio NFTs, concert tickets, merchandise, and more.
How to buy Domain?
You can either search for them on Angoname, or search for secondary sales on an NFT open market as OpenSea (more expensive).
At this moment, about 10% have already been claimed, but there are plenty left for you to discover.
To get an Animal Domain, please follow the steps below. (These steps are applicable for the rare ones as well.)
Search for a domain using this combination: [adjective] + [animal] (see the full list).
If you can find one with *.crypto (Example: happymouse.crypto), congratulation!
Click the button 'Unstoppable Domains' to check out.
After you complete your purchase, on the Unstoppable Domains dashboard go "My Domains" and claim the Animal Domain to your wallet.

You can view your NFT by linking your wallet to OpenSea.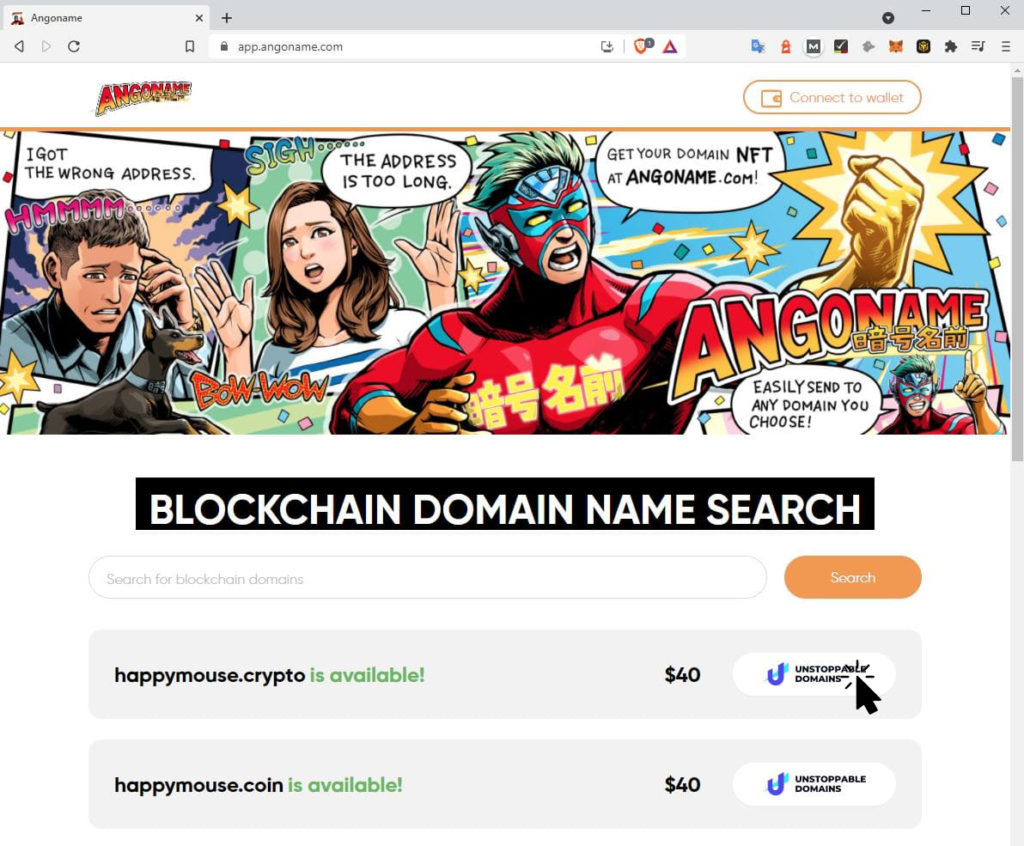 How to sell Domain?
Go to Opensea
'Connect your wallet' with KEYRING PRO Wallet Connect, or use Metamask
Go to 'My Collections'
Click on your Domain
Click 'Sell'
Set the conditions, and the price in ETH
Click 'Post your listing' (You will need to pay Ether gas fee to approve your NFT on Opensea)