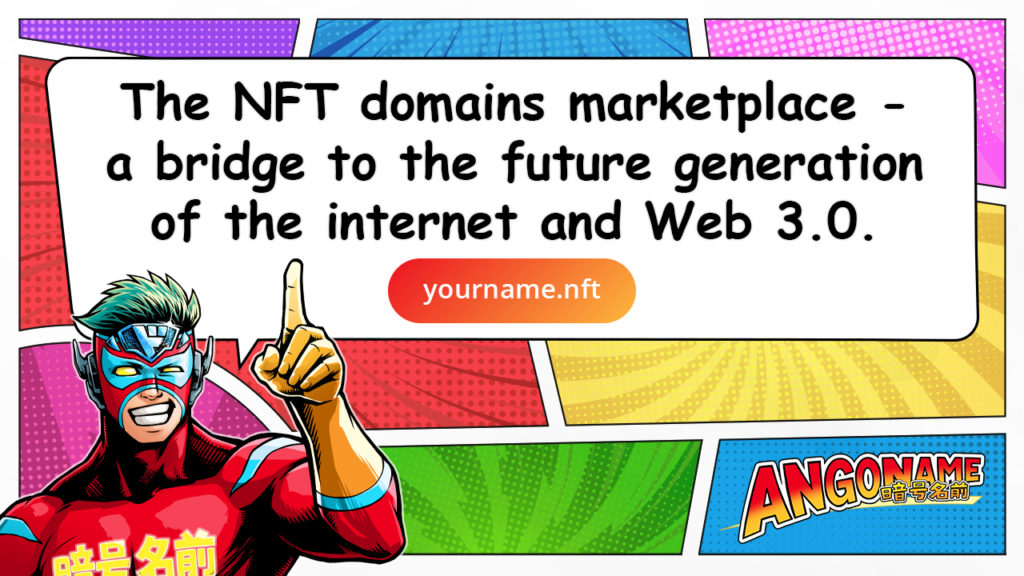 With decentralized internet becoming a reality, website owners must embrace the future of blockchain or risk getting left in Web 2.0. New NFT domains marketplace launches to inside new opportunities on Web 3.0.
The majority of internet users today recognize domains as being the combination of letters they type into their browsers. However, what many don't know is that people design domains to accomplish a lot more than displaying a website, with functionality to send emails and make payments, to list a few. So, why aren't we seeing domains leveraging this additional utility? In short, the answer comes down to their control from centralized servers. Accordingly, with centralization comes greater control, in turn, adding barriers to innovation. 
Fortunately, the rise of nonfungible tokens (NFTs) and decentralized technologies have proven that once high barriers can be eliminated. Regarding decentralized domains, users maintain self-custody, ensuring the complete control of their assets, verified on the blockchain and stored similar to a cryptocurrency in a virtual wallet.
The NFT domains marketplace is now operational
These domains then gain advantages such as the ability to support decentralized websites, provide full ownership control of domain management features. Also, they allow developers to innovate beyond what to type into a browser. In fact, NFT domains are probably the catalyst in bringing about the transformation of the internet.
Recognizing the vast potential of NFT domains is Angoname, a site claimed to be "the world's first blockchain marketplace for NFT domains.". In this case, the platform, designed to support the purchase and sale of blockchain-based NFT domains, includes a domain name registry where users can browse specific listings. 
As a gateway into Web 3.0, the Angoname ecosystem is designed to help businesses move away from Web 2.0, a centralized system, to a Web 3.0,  permissionless and permanent future for the internet. As a result, users can reclaim the lost freedom in the initial transition from Web 1.0 to Web 2.0 and evolve towards the decentralized future experts claim to be inevitable.
From domain names to wallet addresses
Following the launch of the Angoname marketplace for NFT domains, the team shares their focus will remain on making improvements for web browsers, including their own, and partnering with Unstoppable Domains.
How to buy Domain?
You can either search for them on Angoname, or search for secondary sales on an NFT open market as OpenSea (more expensive).
At this moment, about 10% have already been claimed, but there are plenty left for you to discover.
To get a domain, please follow the steps below. (These steps are applicable for the rare ones as well.)
Search for a domain using this combination: [adjective] + [name] (see the full list).
If you can find one with *.crypto (Example: happymouse.crypto), congratulation!
Click the button 'Unstoppable Domains' to check out.
After you complete your purchase, on the Unstoppable Domains dashboard go "My Domains" and claim the Domain to your wallet.

You can view your NFT by linking your wallet to OpenSea.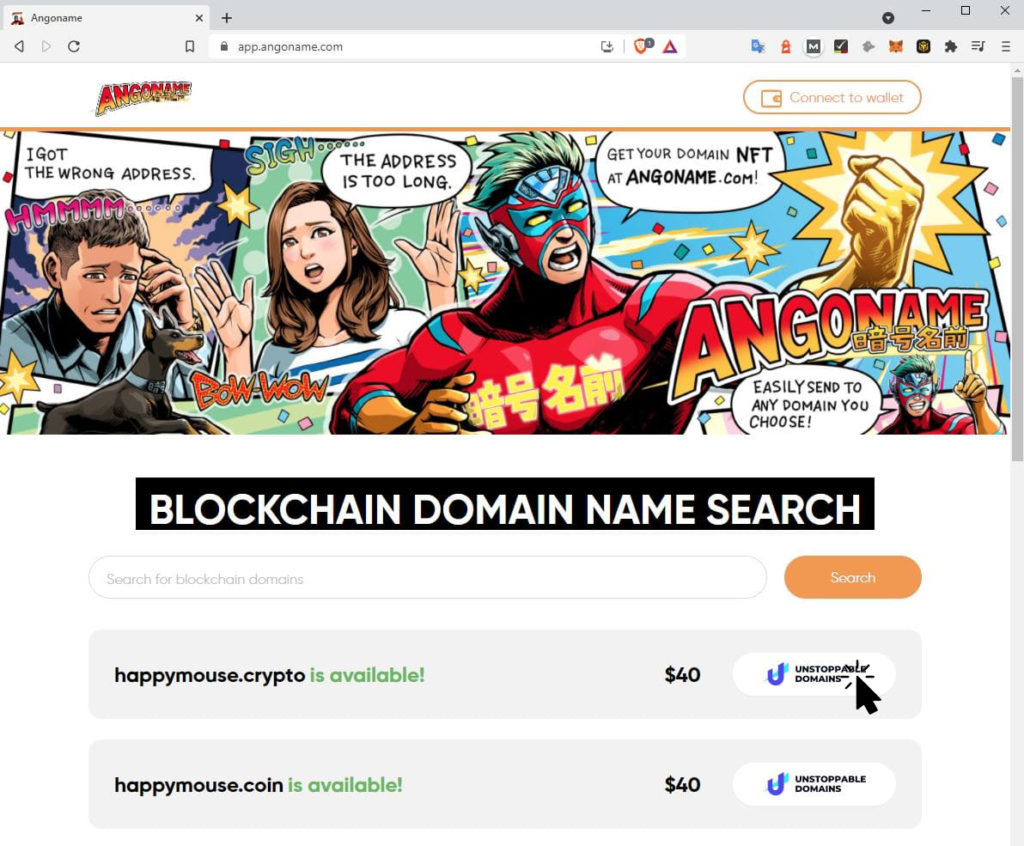 How to sell Domain?
Go to Opensea
'Connect your wallet' with KEYRING PRO Wallet Connect, or use Metamask
Go to 'My Collections'
Click on your Domain
Click 'Sell'
Set the conditions, and the price in ETH
Click 'Post your listing' (You will need to pay Ether gas fee to approve your NFT on Opensea)