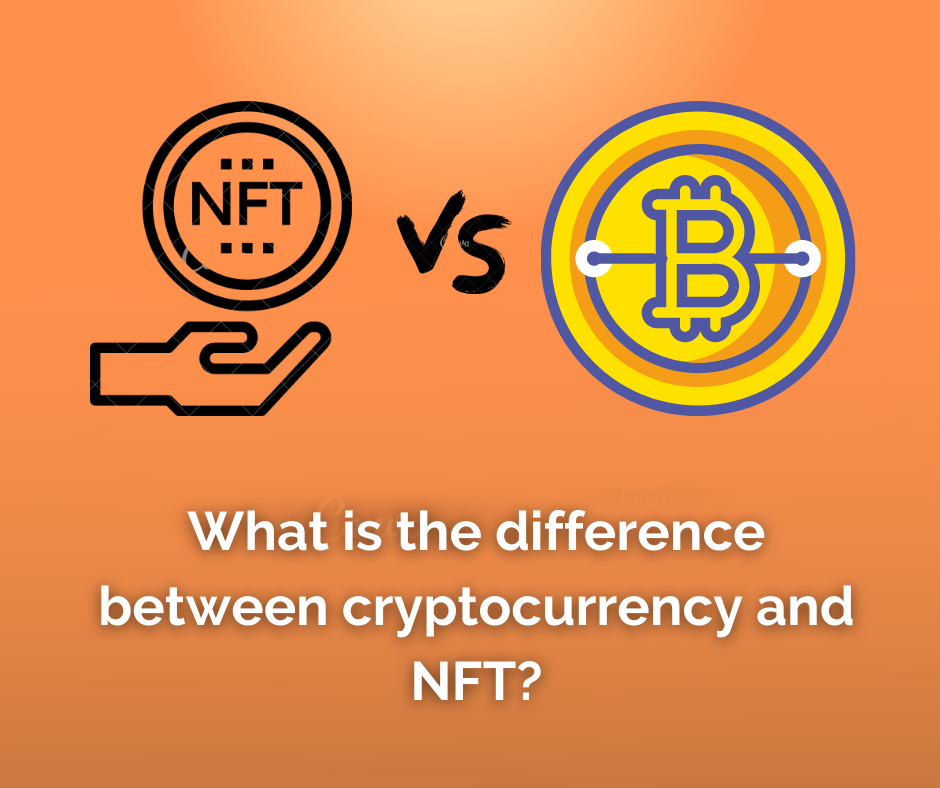 The world is gradually changing away from traditional ways of transaction and toward digital wallets that carry both money, cryptocurrencies, and even non-fungible (NFT). With so many possibilities, it's critical to understand the differences between the various types of currencies.
With nonfungible tokens' sudden popularity, it's crucial to understand what they are and how they vary from cryptocurrencies and digital money.
However, blockchain and its variants have been in the news for the past decade or so. What makes NFTs unique, and why are they causing investors to pay attention?
What are cryptocurrencies?
Cryptocurrencies are a sort of virtual or digital currency in which the value is safe through encryption. This means they're quite safe to use and almost impossible to fake or double-spend.
In order to safeguard networks from outside interference, every cryptocurrency you wish to explore uses a variety of encryption techniques and other cryptographic measures. We can use some cryptographic methods including curve encryption, public-private key pairs, and hashing algorithms.
What is non-fungible (NFT)?
The abbreviation NFT stands for non-fungible tokens. Everybody considers anything to be non-fungible when "it is unique and cannot be exchanged with something else."
Each NFT contains identifying information such as "who owns the digital asset" and "who sold it" since such a certificate cannot be fabricated. As a result, each NFT is distinct and easily verifiable.
For your digital assets, such as games, music, and art, NFT produces a blockchain-based digital certificate. This certificate serves as a unique identity for your work.
What is the major distinction between cryptocurrency and non-fungible (NFT)?
NFTs and crypto are both based on blockchain, and both use the same technology and ideas. As a result, they tend to draw the same kind of people. NFTs are a subset of the crypto culture, and you'll almost always require bitcoin to buy and sell them.
When it comes to NFTs and cryptocurrencies, humans and chimps have a lot in common. Despite the fact that they are essentially different species with common ancestors, they exhibit many comparable characteristics. NFTs and cryptocurrencies are both originally from the blockchain.
As we described above, there are several fundamental similarities and differences between NFTs and cryptocurrencies. The main reason is that cryptocurrencies are by definition fungible.
NFTs aren't what their name suggests. An NFT is not the same as another NFT, but a Bitcoin is the same as another Bitcoin. Each one is distinct, one-of-a-kind, and priced according to perceived value and demand.
It's as simple as that. But take note: the preceding explanation merely touches the surface of this concept's importance. This is an important issue for everyone having interests in this profession to understand and appreciate.
Cryptocurrencies will undoubtedly disrupt the financial world, but the question is whether they will also impact practically every other aspect of your life. Will NFTs give anything that literally returns power and, more importantly, money to the people, or will they just bust another bubble? We'll have to wait and see what happens.
For the time being, that's all there is to it. We really hope you now have a better grasp of cryptocurrencies and NFTs, as well as an appreciation for their huge distinctions!
The Bottom Line
NFTs are now a feasible alternative for folks who are artistically inclined and wish to generate money from their digital work. Artists and traders have been drawn to the market because of its creative, artistic component.
Crypto, on the other hand, is unexpected. Some cryptocurrencies were designed with the intention of being more stable than others. Cryptocurrencies with lower volatility than Bitcoin and Ethereum are known as stablecoins. Stablecoins like Tether and USD Coin are two examples. The worth of the US dollar is determined by its value.
As a result, the debate over NFT vs. Crypto is on the rise. So, how do you choose between the two options? This is decided by the trader's willingness to take risks and motivation to do so.
How to buy Domain?
You can either search for them on Angoname, or search for secondary sales on an NFT open market as OpenSea (more expensive).
At this moment, about 10% have already been claimed, but there are plenty left for you to discover.
To get a domain, please follow the steps below. (These steps are applicable for the rare ones as well.)
Search for a domain using this combination: [adjective] + [name] (see the full list).
If you can find one with *.crypto (Example: happymouse.crypto), congratulation!
Click the button 'Unstoppable Domains' to check out.
After you complete your purchase, on the Unstoppable Domains dashboard go "My Domains" and claim the Domain to your wallet.

You can view your NFT by linking your wallet to OpenSea.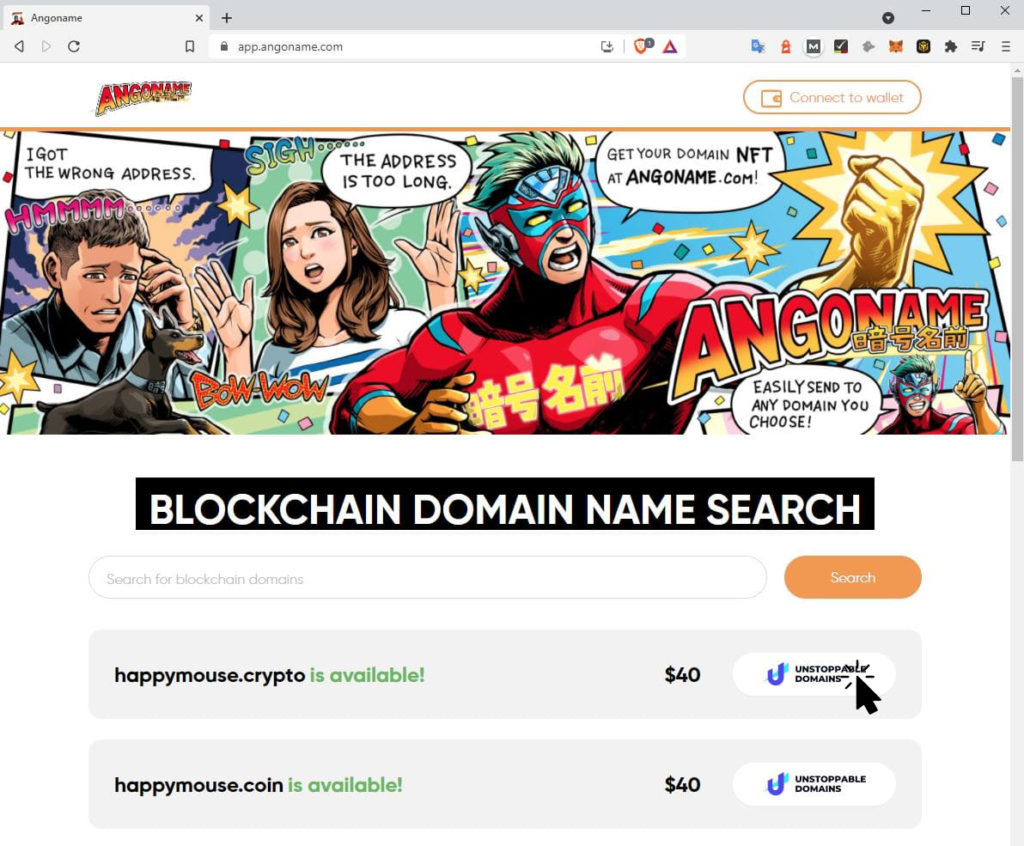 How to sell Domain?
Go to Opensea
'Connect your wallet' with KEYRING PRO Wallet Connect, or use Metamask
Go to 'My Collections'
Click on your Domain
Click 'Sell'
Set the conditions, and the price in ETH
Click 'Post your listing' (You will need to pay Ether gas fee to approve your NFT on Opensea)