What is Animal Domain?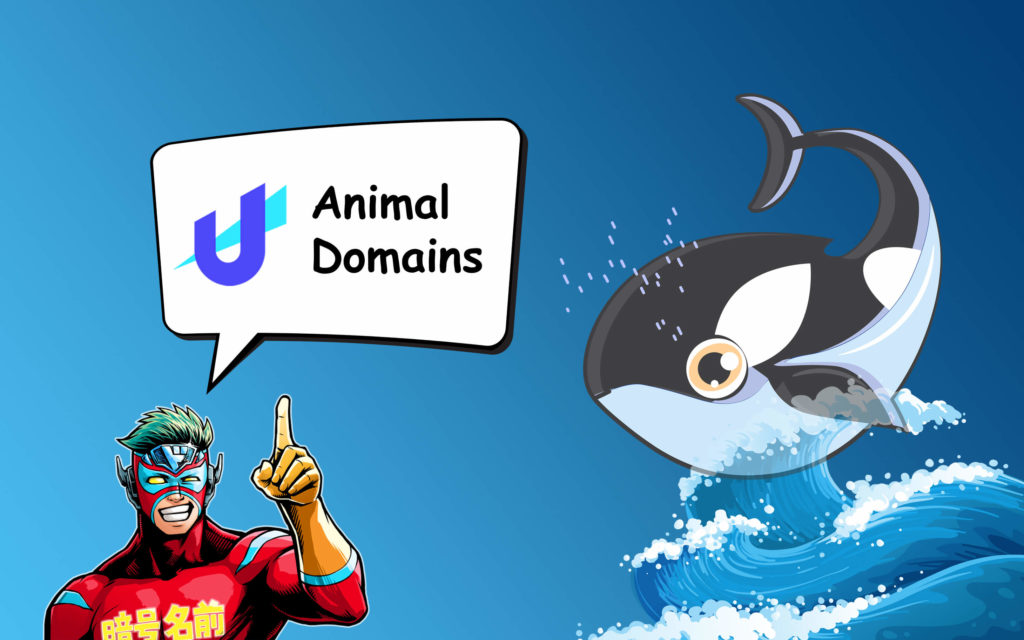 Unstoppable Domains is now launching a limited series of UD Animal NFTs.
They operate similarly to the regular Crypto Domains but appear in animal art forms, instead of the UD logo, thanks to the nature of NFT.
Animal Domains come with scarcity as collectibles, which creates unidentifiable high value for each unit.
The category of animal offers up to 298 types with 99 different adjectives.
(*) Those only come in the [*.crypto] format. (Ex: happymouse.crypto)
Related Articles
Animal Domain Combination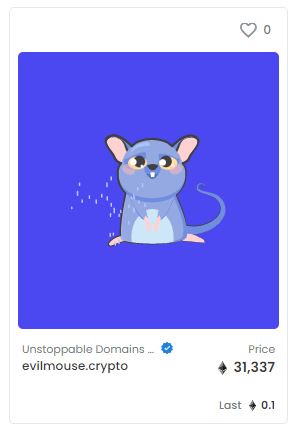 Each Animal Domain is a combination of [adjective] + [animal].
For example, if you combine 'evil' and 'mouse', you will get the 'evilmouse.crypto' domain.
At the time of this article 'evilmouse.crypto' is worth 31.3 ETH (~$108,322 USD) on an open market.
The Rare Ones
There are 04 types of animals that do not show up as collectibles in the search results, but appear as UD collectibles once you claim them to your wallet.
The 04 animals are:
Unicorn
Bufficorn
Pegabufficorn
Megapegabufficorn (sold out)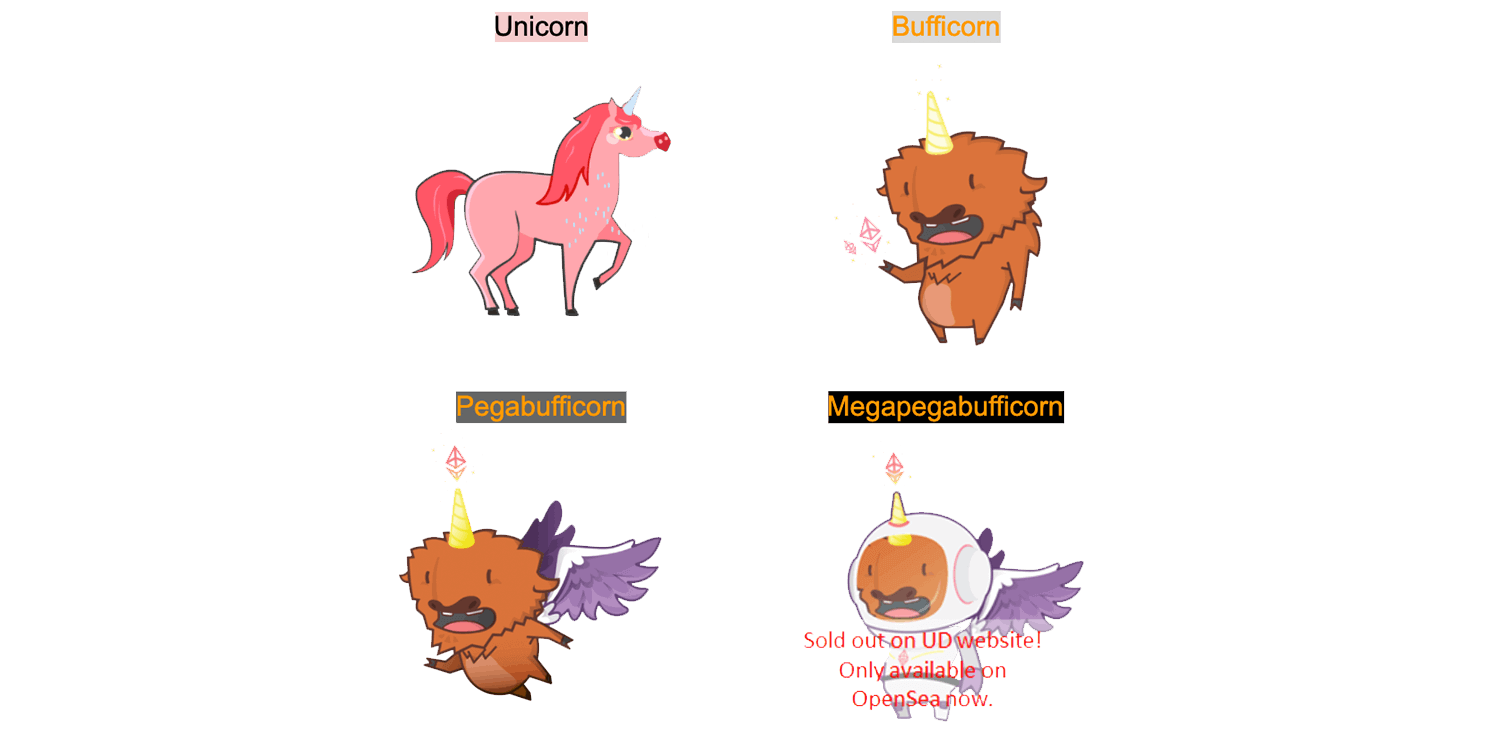 How to buy Animal Domain?
You can either search for them on Angoname, or search for secondary sales on an NFT open market as OpenSea (more expensive).
At this moment, about 10% have already been claimed, but there are plenty left for you to discover.
To get an Animal Domain, please follow the steps below. (These steps are applicable for the rare ones as well.)
Search for a domain using this combination: [adjective] + [animal] (see the full list).
If you can find one with *.crypto (Example: happymouse.crypto), congratulation!
Click the button 'Unstoppable Domains' to check out.
After you complete your purchase, on the Unstoppable Domains dashboard go "My Domains" and claim the Animal Domain to your wallet.

You can view your NFT by linking your wallet to OpenSea.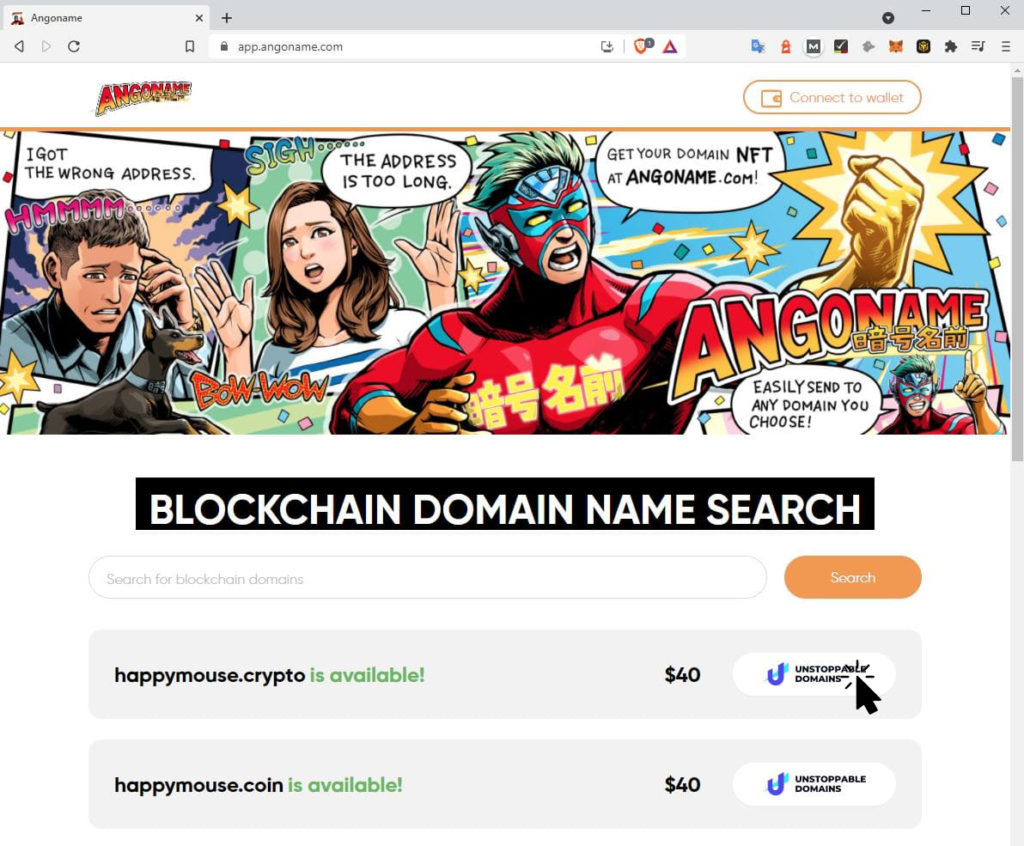 How to sell Animal Domain?
Go to Opensea
'Connect your wallet' with KEYRING PRO Wallet Connect, or use Metamask
Go to 'My Collections'
Click on your Animal Domain
Click 'Sell'
Set the conditions, and the price in ETH
Click 'Post your listing' (You will need to pay Ether gas fee to approve your NFT on Opensea)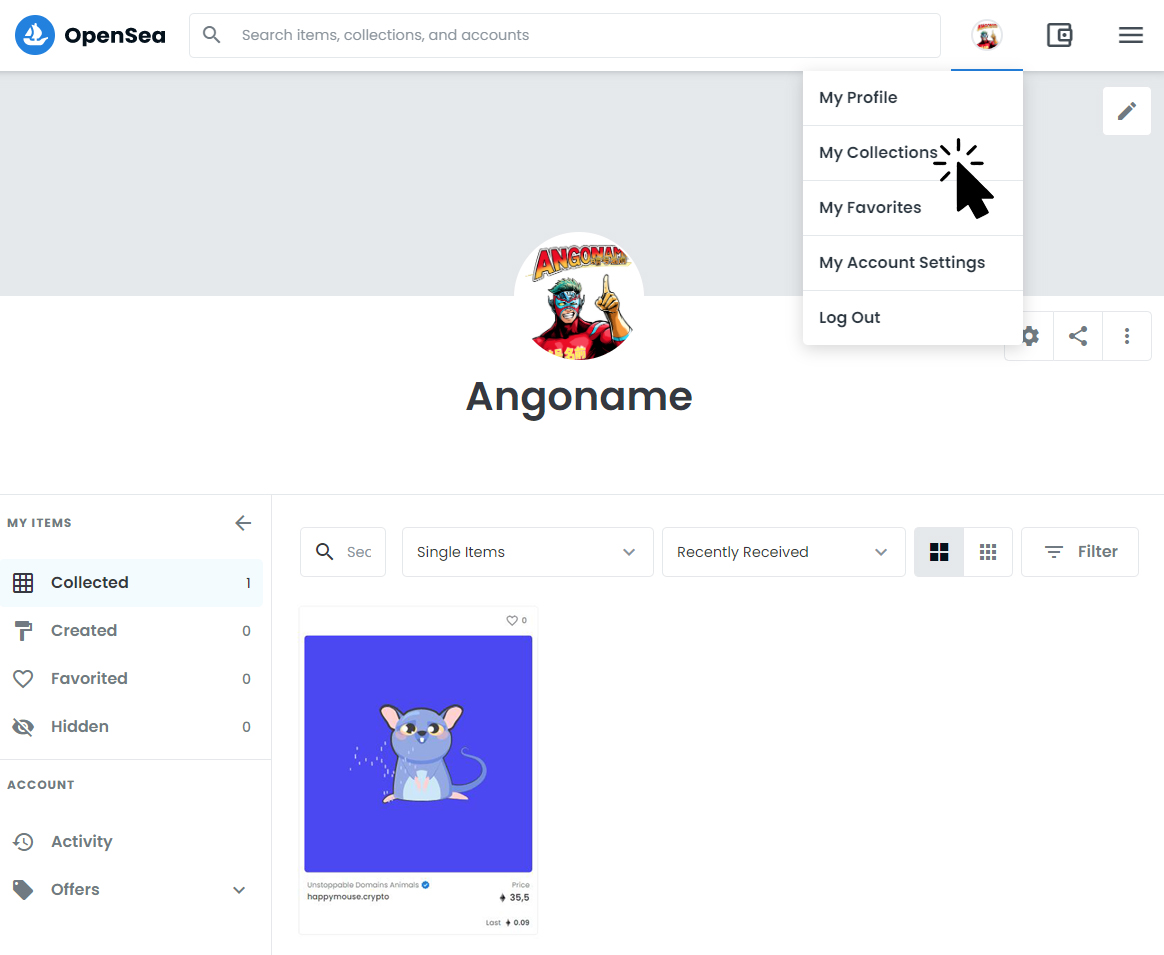 Animal Domain List
Adjectives and Prefixes
angry
awful
bad
bald
big
bold
bored
calm
clean
cocky
cold
cool
coy
cozy
crazy
cute
dark
dead
deaf
dim
drab
drunk
dry
dull
eager
easy
edgy
elite
erect
evil
fancy
fast
fat
fit
foxy
fried
fun
funny
giddy
goofy
grim
happy
hot
huge
icky
icy
kind
lame
lazy
lean
loud
mad
magic
manic
mean
meek
mild
mini
moody
my
needy
new
nice
no
noisy
nosy
odd
ok
old
poor
puny
pushy
rare
rich
rude
sad
sassy
scary
shy
silly
slim
sly
smug
soft
sour
spicy
tall
tame
tasty
tiny
tipsy
ugly
weak
wet
wild
wise
witty
wordy
zany
Animals
aardvark
addax
alligator
alpaca
anaconda
ant
antelope
ape
argali
armadillo
baboon
badger
bandicoot
banteng
barracuda
bat
bear
beaver
bee
beetle
bettong
bilby
bilygoat
birdie
bison
blackbuck
bluebird
boa
boar
bobcat
bonobo
buffalo
bull
bunny
butterfly
calf
camel
canary
capybara
caracal
caribou
cat
catfish
cattle
chameleon
cheetah
chick
chicken
chimp
chinchilla
chipmunk
chuditch
coati
cobra
cod
colubus
colugo
cottontail
cougar
cow
coyote
coypu
crab
crane
croc
crow
cub
culpeo
cuscus
deer
dhole
dibbler
dik-dik
dingo
dinosaur
dog
dolphin
donkey
dove
dragon
duck
duckling
dugong
duiker
eagle
echidna
eel
elephant
elk
emu
falcon
ferret
finch
fish
flamingo
fly
fox
frog
galago
gazelle
gecko
genet
gerbil
gerenuk
gibbon
giraffe
goat
goose
goral
gorilla
grivet
grizzly
groundhog
guanaco
gundi
hamster
hare
hawk
hedgehog
heron
herring
hippo
hog
horse
hound
hummingbird
hyena
hyrax
ibex
ibis
iguana
impala
jackal
jackrabbit
jaguar
jaguarundi
jellyfish
jerboa
kangaroo
kitten
kiwi
klipspringer
koala
kob
kodkod
komodo
kouprey
kowari
kudu
lamb
langur
lark
lechwe
lemming
lemur
leopard
liger
lion
lizard
llama
loris
lynx
macaque
macaw
magpie
malbrouck
mandrill
mara
margay
marmoset
marmot
meerkat
mink
mole
monkey
moose
mouflon
mouse
mule
muntjac
muskrat
newt
nilgai
numbat
nyala
octopus
okapi
oncilla
opossum
orangutan
orca
oryx
otter
owl
ox
oyster
panda
pangolin
panther
parakeet
parrot
peccary
penguin
phascogale
pig
pigeon
pika
platypus
polarbear
polecat
pony
porcupine
porpoise
potto
pronghorn
puffin
pug
puku
puma
puppy
quail
quokka
quoll
rabbit
raccoon
racoon
ram
rat
raven
reindeer
rhino
robin
sable
saiga
salmon
saola
sea-lion
seal
serow
serval
shark
sheep
shrew
sifaka
sitatunga
skunk
sloth
snail
snake
sparrow
spider
springbok
springhaas
squid
squirrel
stork
suni
suslik
swan
tahr
tamandua
tapir
tarsier
taruca
tayra
tiger
titi
toad
tortoise
toucan
trout
tur
turkey
turtle
urial
viper
viscacha
vole
wallaby
wallaroo
walrus
wasp
weasel
whale
wildebeest
wolf
wolverine
wombat
worm
wren
yak
zebra
zebu
zorilla
unicorn
bufficorn
pegabufficorn
megapegabufficorn