What is a Zil domain?
The .Zil domain is basically a crypto domain lays on top of Zilliqa blockchain.
It exist in ZRC-1 standard, an NFT format, which corresponds to the ERC-721 on Ethereum.
You can build a website with .Zil domain, and accept payments on Zilliqa blockchain by connecting your wallet to the domain.
In term of efficiency, Zilliqa offers cheaper fees and higher transaction speed in comparison to Ethereum.
Nevertheless, crypto domains on Ethereum tend to get more popularity and better in liquidity due to a larger market.
How do I sell my Zil domain?
Selling Zil domain will be trickier than other domains on Ethereum.
At the time of this article, it seems like the best option for selling Zil domain is Mintable.
For a full instruction, you can visit this support site.
How do I claim a .Zil domain?
Unstoppable Domains is launching a campaign for user to claim a .Zil domain free of charge.
However, the campaign is restricted in some certain areas.
You can claim one on Unstoppable Domains.
What can you do with .crypto domain?
Permanent ownership
Crypto domain always comes with permanent ownership due to its nature.
When a domain is purchased, you would not have to pay the yearly renewal fee, ever.
Receive crypto payments
You can connect your wallets to your crypto domain to accept crypto payments.
It means your domain basically replaces your addresses, which simplifies the process of accepting crypto payment, and reduces the risk of giving the wrong address.
Also, crypto domain now supports users to receive payments across different blockchains, rather than just with Ethereum and ERC tokens.
For example: Cardano (ADA), Aeternity (AE), Algorand (ALGO), Ampleforth (AMPL), Ark (ARK), Cosmos (ATOM), Basic Attention Token (BAT), Balancer (BAL), Bitcoin (BTC), etc.
You can access the full list of supported crypto on our support page.
Build a website
Web 3.0 is now accessible for almost everyone from anywhere in the World.
You can build a simple website from the Unstoppable Domains Web Builder and connect to your purchased crypto domain without knowing a single line of code.
It represents your participation in the evolution of Web3, and breaks out of the traditional DNS system.
Resell to earn profit
It operates similarly to the tradition domain marketplace, where you can purchase good looking domains in advance, then resell by putting offers on the market.
In case of reselling crypto domain, Angoname Marketplace is an ideal place to resell and earn good profits from your crypto domain NFTs.
Other options aside from .crypto
Aside from .crypto domain, user can obtain other cools domains as .nft, .bitcoin, .blockchain, .x, .888, .dao, .coin, .wallet.
Buy Crypto Domains
On Angoname Marketplace, You can acquire a crypto domain from both authentic provider as Unstoppable Domains and independent retailers.
It operates closely to a regular domain provider as Godaddy, Name.com, or Google Domain.
You can start by inserting a keyword on the search box. Angoname will provide all relevant results on a search result page, which combines offers from Unstoppable Domains and independent retailers.
Once you find your desired domain, just pick it.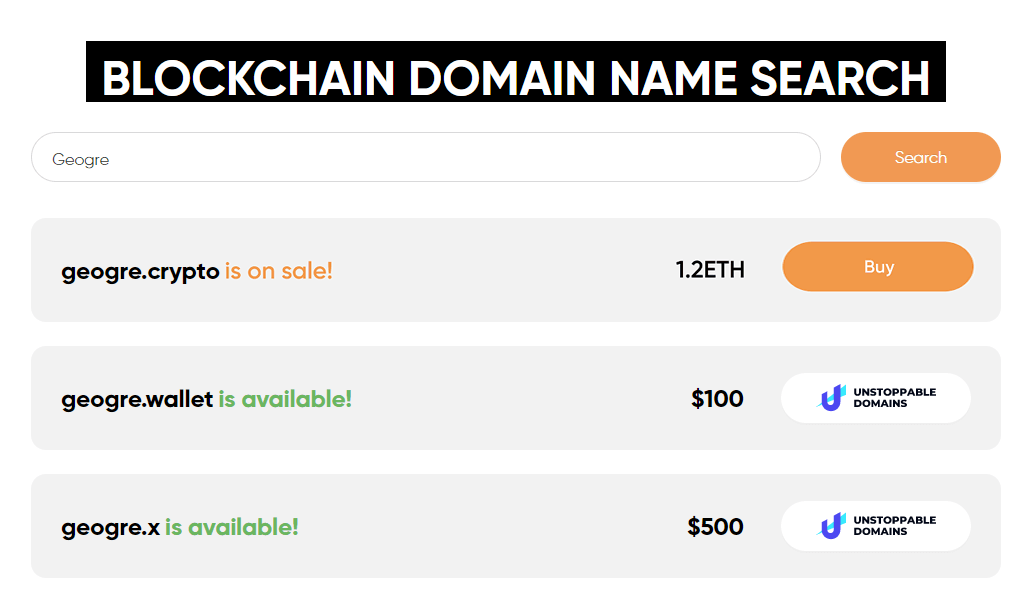 Sell Crypto Domains
It only takes a few simple steps to resell your Blockchain Domain on Angoname.
First, you will need to connect to Angoname through an Ethereum Wallet as Metamask, or KEYRING PRO.
Metamask
Open Metamask
On Angoname, click 'Connect a Wallet'
Choose Metamask
Click 'Sign'
Wallet Connect
Open KEYRING PRO (Download Links)
On Angoname, click 'Connect a Wallet'
Choose Wallet Connect,
Scan the QR Code with KEYRING PRO and tap 'Sign'
Now, you can start selling.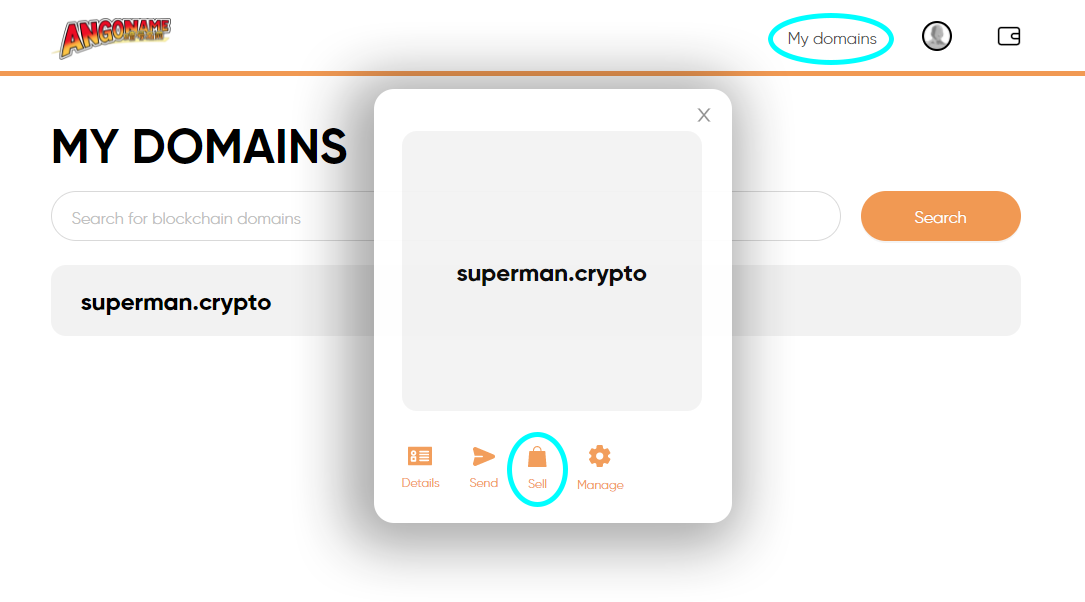 Go to 'My Domain'
Choose any domains that you want to sell
Click 'Sell'
Set a desired price in ETH, set the gas fee
Click 'Set'