Short & Unique Crypto Domains
A new batch of Unique Crypto Domains is now available on Angoname!
This one is completely different from any others.
They're short Crypto Domains that only have 03 characters with over 41,300 combinations.
Those come with 08 unique extensions .crypto, .wallet, .blockchain, .nft, .bitcoin, .x, .coin, .dao, .888, .zil.
Short & Unique Crypto Domains are on sale as below.
🔥 (*) The full list of Unique Crypto Domains!
With the nature of NFT, each domain is unique, which means if you purchase them, other people will have to buy them from you. This is how you can make the most out of Crypto Domains.
As the market blooming rapidly, plus the expanding of Web 3.0, unique Crypto Domains will definitely gain value through time.
Related Articles
Sell Crypto Domains on Angoname
It only takes a few simple steps to resell your Blockchain Domain on Angoname.
First, you will need to connect to Angoname through an Ethereum Wallet as Metamask, or KEYRING PRO.
Metamask
Open Metamask
On Angoname, click 'Connect a Wallet'
Choose Metamask
Click 'Sign'
Wallet Connect
Open KEYRING PRO (Download Links)
On Angoname, click 'Connect a Wallet'
Choose Wallet Connect,
Scan the QR Code with KEYRING PRO and tap 'Sign'
Now, you can start selling.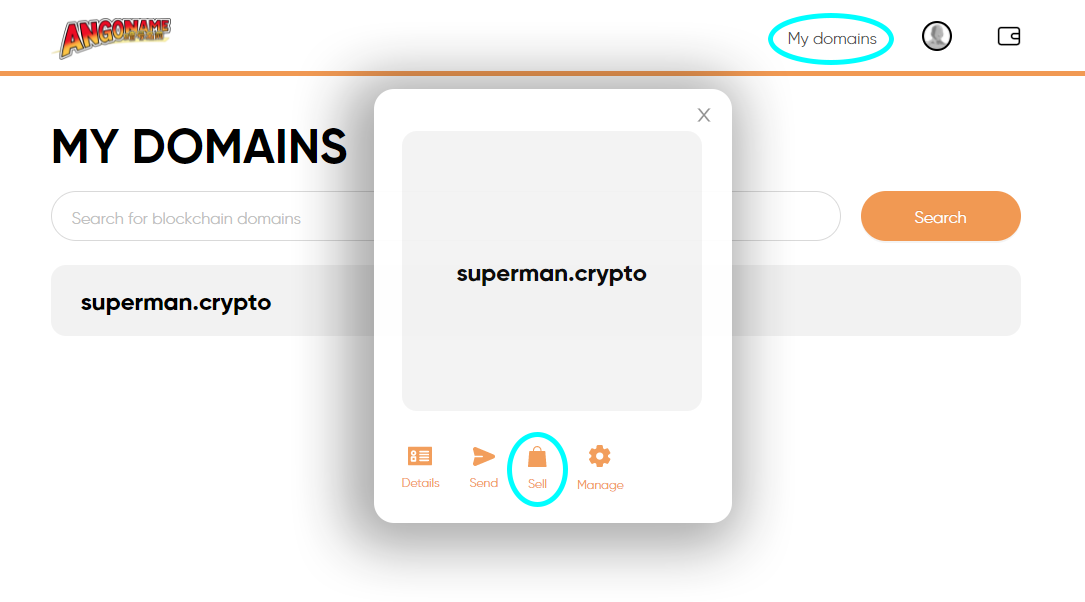 Go to 'My Domain'
Choose any domains that you want to sell
Click 'Sell'
Set a desired price in ETH, set the gas fee
Click 'Set'