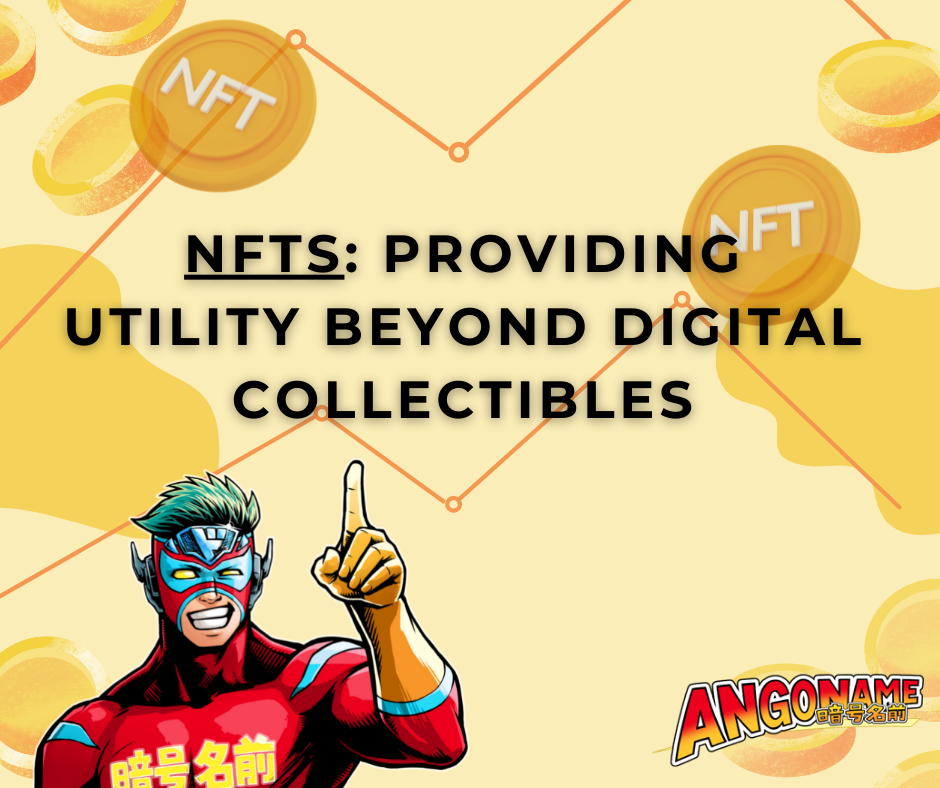 It's simple to understand why there are differing views on the use of NFTs. Many people are unfamiliar with the technology and are unaware that it goes beyond the digital collectibles making the news. A decade ago, there was a similar misconception about augmented reality.
What Are NFTs?
Angoname defines NFTs as "on a blockchain, cryptographic assets have unique identification codes and metadata that separate them from one another.."
Both NFTs and cryptocurrencies leverage underlying blockchain technology, and purchase or ownership is transacted virtually through internet protocols. But NFTs have two key properties that separate them from cryptocurrencies like Bitcoin and traditional digital assets: They are non-fungible and they are scarce.
NFTs are non-fungiblg, which means exchange for another asset of the same type is not possible because each NFT has unique qualities known as attributes. 
A growing list of celebrities and brands are minting NFT collections including the NBA, Formula 1, Coca-Cola, Taco Bell, Eminem, Grimes, Paris Hilton, Gwyneth Paltrow, Reese Witherspoon, Justin Bieber, and Kevin Hart. 
NFTs' Changing Utility
Just like Bitcoin sparked a global cryptocurrency revolution when it was first released in January 2009, NFTs are now inspiring innovators and visionary enthusiasts from around the world.  People wish to explore how blockchain technology can be used to not only verify asset ownership but also provide additional utility to owners.
Let's explore the evolving utility of NFTs by focusing on several aspects of our daily lives that are already affected by technology.
Gaming
NFTs can be seen as a natural evolution of in-app purchases. This drives about 95 percent of users' spending among mobile gamers. By decentralizing the ownership of in-app purchases, they pave the way for in-game assets to be freely exchanged among gamers. And even transferred between different games.
Developers and publishers can create player-driven economies of in-game assets by equipping gamers with content creation tools that allow them to design, advertise, and sell everything from digital fashion for their avatars to vehicles, weapons, and more.
NFTs in Real Estate
NFTs could be used to transfer land deeds, provide proof of ownership and even keep track of changes in property value over time using timestamped NFTs.
One of the most NFT-ready industries is real estate. NFTs may be used in real estate to simplify and speed up transactions, enabling smart contracts for properties (allowing automated payments), and even building decentralized house rental services – all while safeguarding sensitive data such as credit card numbers.
Basically, imagine learning all you need to know about the property you're going to purchase with just a few clicks on your phone. Know when the property was created, who owned it initially, what changes were made, and everything leading up to your purchase.
Intellectual Property and Patents
NFTs are excellent for safeguarding intellectual property and patents. Also, NFT tokens enable users to demonstrate ownership of any piece of material. It is not achievable with standard IP rights tools like trademarks and copyrights.
Especially, people use timestamps and the IP's whole history to determine the ownership of an IP. The NFT chain would be immutable, which implies that the NFT owner could show they were the original originator of a piece of labor at any point in time.
The same may be for patents; they use NFTs to protect and authenticate ownership of an idea or invention. Accordingly, NFTs might potentially offer the essential data for verification. This results in the creation of a public ledger that chronicles all patent-related transactions.
Academic Credentials
NFTs are also an effective technique to display academic qualifications. Accordingly, NFTs can give proof of attendance, degree, and other essential information. They recorded on the NFT chain and cannot be edited or hacked. By distributing tokens for each course finished and certifying any degrees achieved using smart contract verification methods. Afterward, NFTs may generate immutable records for courses done.
Undoubtedly, issuing paper certificates will become obsolete in the future. As a result, people will use NFT as a record of academic performance. Additionally, NFT education tokens can be transferred to other people, providing proof that the person who holds them achieved such an NFT 
NFTs in Ticketing
People will replace tickets by NFTs in the near future. Parking permits, for example, can be along with NFT tickets with a unique ID, which you then provide for validation when entering the restricted area.
This eliminates fraud concerns and decreases paper use. This is because NFT owners only require one token rather than several copies (similar to how we don't print our money). Similarly, the same approach applies to bus tokens or other modes of transportation. When payment is verified at many points throughout your route using scanners.
NFTs in the Future
The NFT market is still in its infancy, with investigating new cases on a daily basis. Nobody knows what role NFTs will play in the future. However, their increasing use outside of digital collectibles suggests it won't be insignificant.
How to buy Domain?
You can either search for them on Angoname, or search for secondary sales on an NFT open market as OpenSea (more expensive).
At this moment, about 10% have already been claimed, but there are plenty left for you to discover.
To get a domain, please follow the steps below. (These steps are applicable for the rare ones as well.)
Search for a domain using this combination: [adjective] + [name] (see the full list).
If you can find one with *.crypto (Example: happymouse.crypto), congratulation!
Click the button 'Unstoppable Domains' to check out.
After you complete your purchase, on the Unstoppable Domains dashboard go "My Domains" and claim the Domain to your wallet.

You can view your NFT by linking your wallet to OpenSea.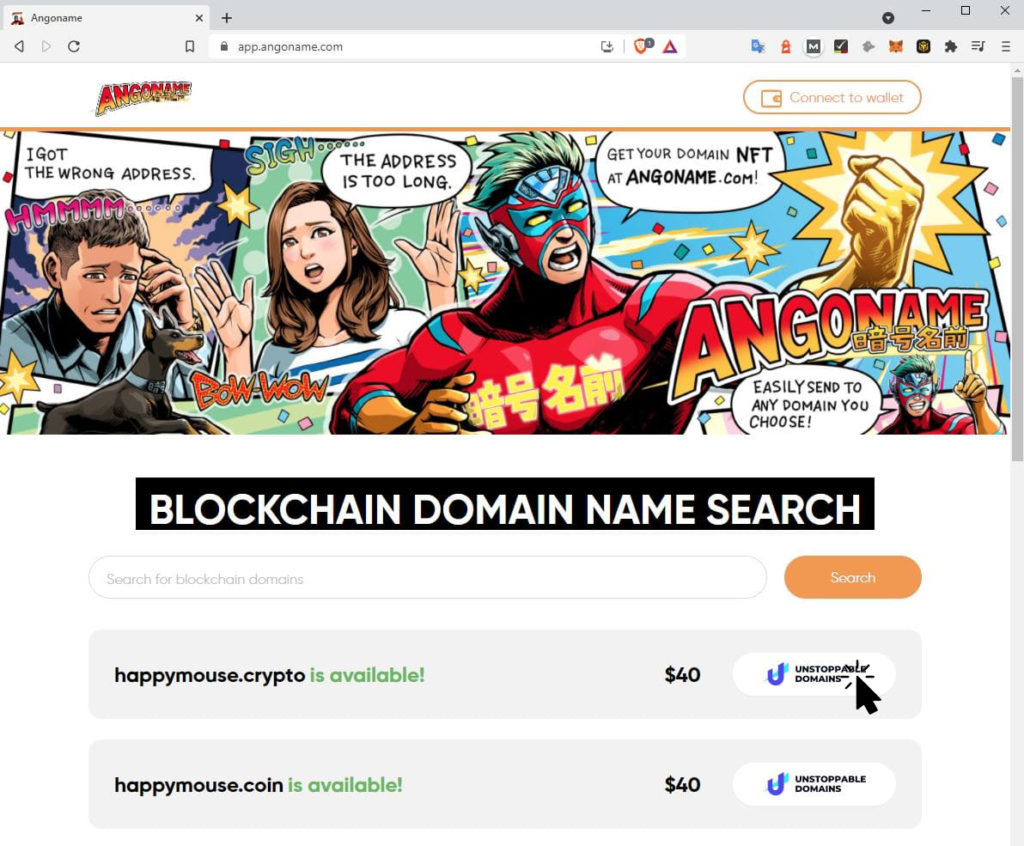 How to sell Domain?
Go to Opensea
'Connect your wallet' with KEYRING PRO Wallet Connect, or use Metamask
Go to 'My Collections'
Click on your Domain
Click 'Sell'
Set the conditions, and the price in ETH
Click 'Post your listing' (You will need to pay Ether gas fee to approve your NFT on Opensea)