Angoname's NFT domains are now supported by Changelly.
Changelly's 2 million+ monthly customers may now swap, sell, and buy crypto using all of Angoname's NFT Domains.
Changelly has merged all of Angoname's NFT domains, which we're quite excited about! Users may take advantage of Changelly's inexpensive exchange rates by replacing their lengthy wallet addresses with human-readable NFT Domains, allowing them to easily trade, buy, and sell cryptocurrency all around the world. Changelly's desktop/website version currently only supports NFT domains; support for NFT domains will be available on their mobile app later in 2022.
At Angoname marketplace, we recognize the importance of interoperability and utility in Web 3. As a result, our integration with Changelly is our Angoname promise to give our users more options to use their NFT domains throughout the Web 3 sphere.
What is Changelly, and how does it work
Changelly provides an ecosystem of products and services that enables customers to have a one-stop-shop experience when engaging with crypto. 
Operating since 2015, Changelly acts as an intermediary between crypto exchanges and users, offering access to 200+ cryptocurrencies that can be effortlessly exchanged within 10 minutes on desktop and on the go via Changelly mobile app. Angoname marketplace is currently in integration with Changelly's desktop version but the near future is the mobile version
How to buy Domain?
You can either search for them on Angoname, or search for secondary sales on an NFT open market as OpenSea (more expensive).
At this moment, about 10% have already been claimed, but there are plenty left for you to discover.
To get an Animal Domain, please follow the steps below. (These steps are applicable for the rare ones as well.)
Search for a domain using this combination: [adjective] + [animal] (see the full list).
If you can find one with *.crypto (Example: happymouse.crypto), congratulation!
Click the button 'Unstoppable Domains' to check out.
After you complete your purchase, on the Unstoppable Domains dashboard go "My Domains" and claim the Animal Domain to your wallet.

You can view your NFT by linking your wallet to OpenSea.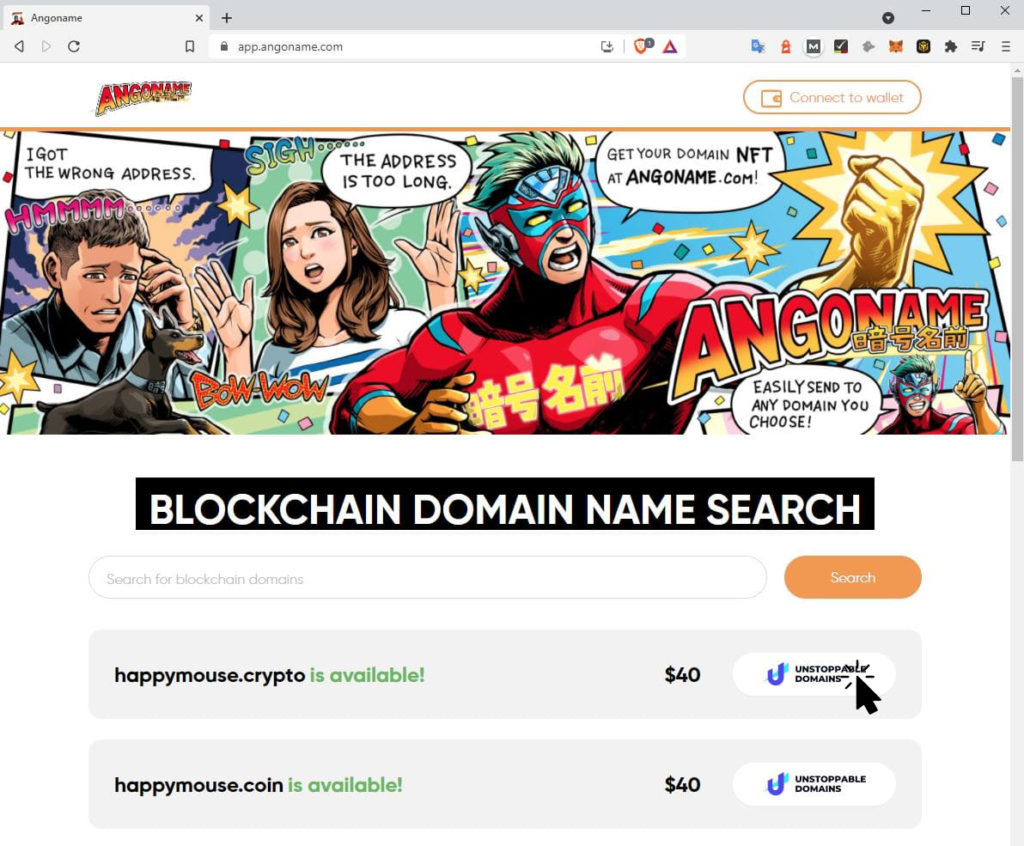 How to sell Domain?
Go to Opensea
'Connect your wallet' with KEYRING PRO Wallet Connect, or use Metamask
Go to 'My Collections'
Click on your Domain
Click 'Sell'
Set the conditions, and the price in ETH
Click 'Post your listing' (You will need to pay Ether gas fee to approve your NFT on Opensea)