Are crypto domains good investments in 2022?

 
Cryptocurrency and Crypto Domains may not an unfamiliar to everyone anymore.
As of now, the entire Cryptocurrency system is worth a whopping $267 billion, and it's continually growing. Thanks to the continued expansion of its third-party platforms, blockchain project contests, wallets, payment processors, and cryptocurrency brokers, the company has grown significantly. All of these factors contribute to the fact that bitcoin remains a powerful uncontrolled virtual currency on the market.
With the unstoppable rise in popularity of digital currencies, the values of domain names associated with them are following suit. According to the rule of demand and supply, as demand grows, so do price and quantity. And when demand falls, so does the price and the amount available. To put it another way, now that the trend for cryptocurrencies and bitcoin is undeniably on the rise, there will be greater demand for cryptocurrency-related domain names. It means that for all domain hoarders and investors, investing in crypto domains will be a fantastic place to start.
As you may be aware, each cryptocurrency project and organization has its own internet domain name. Accordingly, because of their popularity, several of these domain names are now worth hundreds of thousands of dollars.
The following are a handful of the most popular crypto-related domains, in order by anticipated value: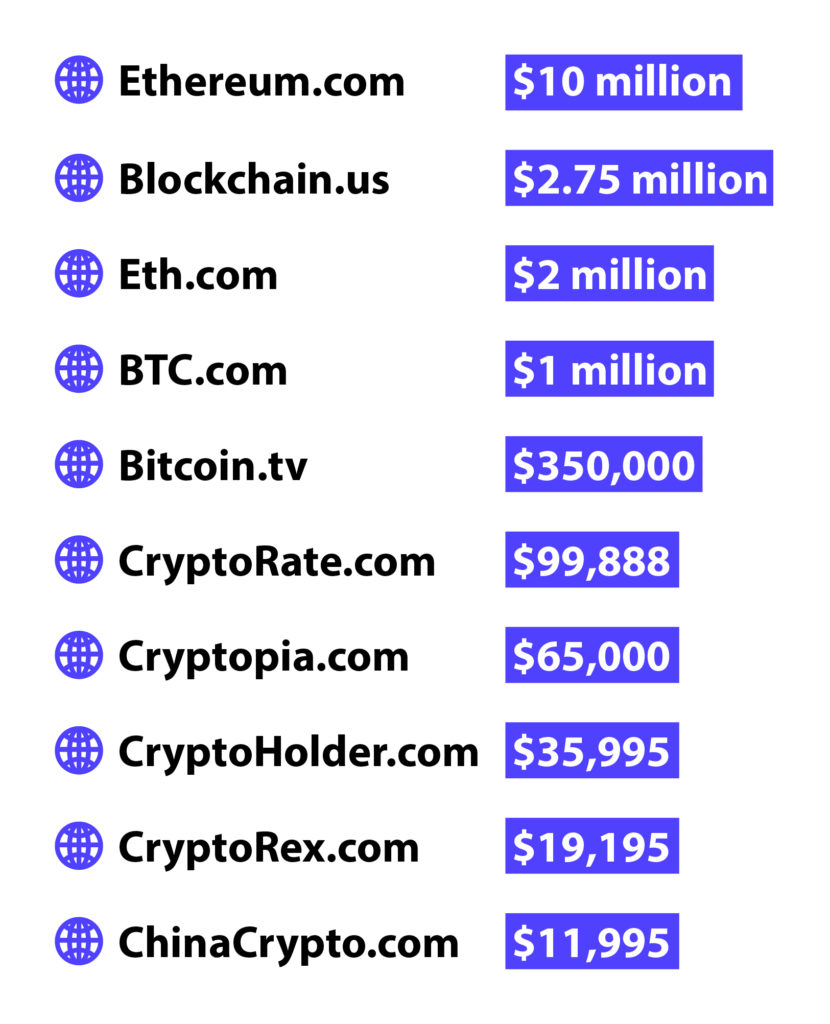 This appears to be the ideal time for you to purchase a name or a collection of domains since cryptocurrency will continue to rise in value. As a result, will not be able to leave the market. However, be very cautious in selecting a crypto or blockchain domain name so that you do away with the risk in investing. Simply buy a blockchain domain in a certain market segment, and you'll be able to tell a whole different tale.
Why crypto domains?
You might be wondering why you need a blockchain domain at this stage. This is because domains will have two primary roles.
Ownership and censorship are the keywords
The initial use of blockchain domains is to allow you to own a specific section of a blockchain registry. It will point to the data it contains. A blockchain domain is usually associated with all cryptocurrency websites. As a result, they also profit from anonymity and censorship.
The advantage of blockchain domains is that you can only purchase them once. Therefore, this implies that, unlike standard website domains, you will get permanent ownership of the asset without having to pay a monthly fee or renew it every year.
This blockchain domain can't be taken away since it's held in each user's wallet, which protects it from censorship.
Smoother and quicker transaction
Additionally, you will not have to input those complex hexadecimal wallet addresses. This will give other benefits such as easier and faster transactions.
All you need to do now is enter the recipient address, money, and domain name. It will be easier and faster. Also, you won't have to double-check your public key to be sure you didn't copy the address incorrectly. As a consequence, now that you've heard the functions, you'll see why you should add the blockchain domain to your wallet, which is always growing with new assets.