Interesting facts about crypto domains 
Crypto Domains or crypto names may not an unfamiliar to everyone anymore. As you may be aware, each cryptocurrency project and organization has its own internet domain name. Because of their popularity, several of these domain names are now worth hundreds of thousands of dollars. Let's get to know several interesting facts about crypto domains. 
It was unchangeable; no one could take possession of your domain.

Unique domain formats like yourname.x, yourname.eth, yourname.crypto , and etc.

No renewal, forever! No fees forever. made of private keys (you can move it or hold it forever)

Censorship resistance and transparent by Decentralization

It can be used to store the names of your crypto addresses.

All major browsers can access the crypto domains.

Those domains are sold for up to $300 million USD within a year.
Where can I get crypto domain names?
You can either search for them on Angoname, or search for secondary sales on an NFT open market as OpenSea (more expensive).
At this moment, about 10% have already been claimed, but there are plenty left for you to discover.
To get an Animal Domain, please follow the steps below. (These steps are applicable for the rare ones as well.)
Search for a domain using this combination: [adjective] + [animal] (see the full list).
If you can find one with *.crypto (Example: happymouse.crypto), congratulation!
Click the button 'Unstoppable Domains' to check out.
After you complete your purchase, on the Unstoppable Domains dashboard go "My Domains" and claim the Animal Domain to your wallet.

You can view your NFT by linking your wallet to OpenSea.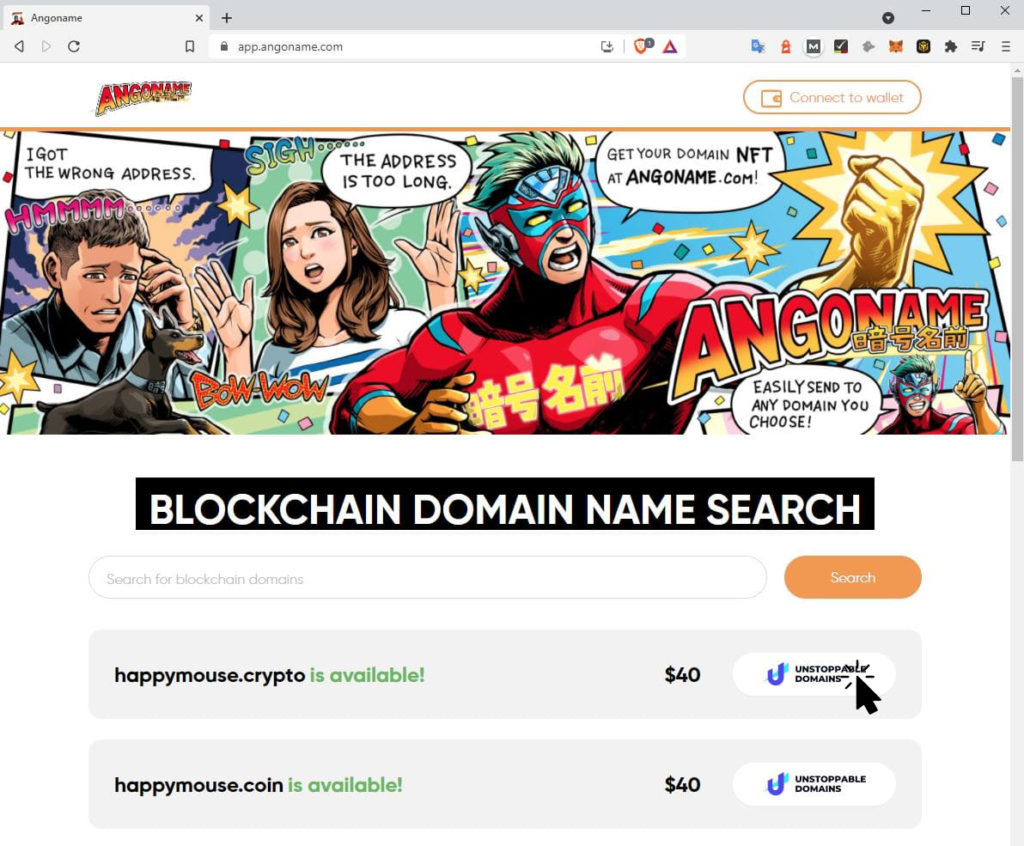 How to sell Domain?
Go to Opensea
'Connect your wallet' with KEYRING PRO Wallet Connect, or use Metamask
Go to 'My Collections'
Click on your Domain
Click 'Sell'
Set the conditions, and the price in ETH
Click 'Post your listing' (You will need to pay Ether gas fee to approve your NFT on Opensea)