What are Blockchain Domains?
In the decentralized world, blockchain domains are an intriguing development. They have the potential to alter our perceptions of domains and online real estate by adding a new degree of openness, functionality, and security.
We'll take a look at blockchain domains in this post. You'll discover how they function and how regular people may benefit from them even before the decentralized web becomes ubiquitous.
What is a blockchain domain?
Blockchain domains are made up of smart contracts, or software that has been published on a public blockchain. People use them to refer to anything stored on the blockchain, such as a website, or as a name registry for crypto wallet addresses.
Non-fungible tokens, or NFTs, are bringing back a late-90s tech trend: the short and sassy domain name.
Consumers are grabbing up blockchain domain names, which are created and sold as NFTs, amid the present cryptocurrency rush, comparable to the ".com" web enthusiasm. Blockchain domains enable censorship-resistant websites by converting difficult hexadecimal wallet addresses into easy-to-remember names.
For example, domain names frequently end in ".crypto" or ".eth." Some tokens are trading for as much as $100,000 on NFT platforms like OpenSea.
"It's the crypto equivalent of Internet domain names," Brad Kam, CEO of Unstoppable Domains, a company that mints and sells blockchain domain names, said.
How do blockchain domains work?
People don't save domains in the blockchain on a server. They're stored in a public registry and on blockchains that are open to the public.
This implies that anybody with access to the documents may examine them, demonstrating an astonishing level of openness and transparency. Furthermore, users can benefit from greater security because each user has the ability to make changes to their domain name, reducing the risk of hacking and stealing.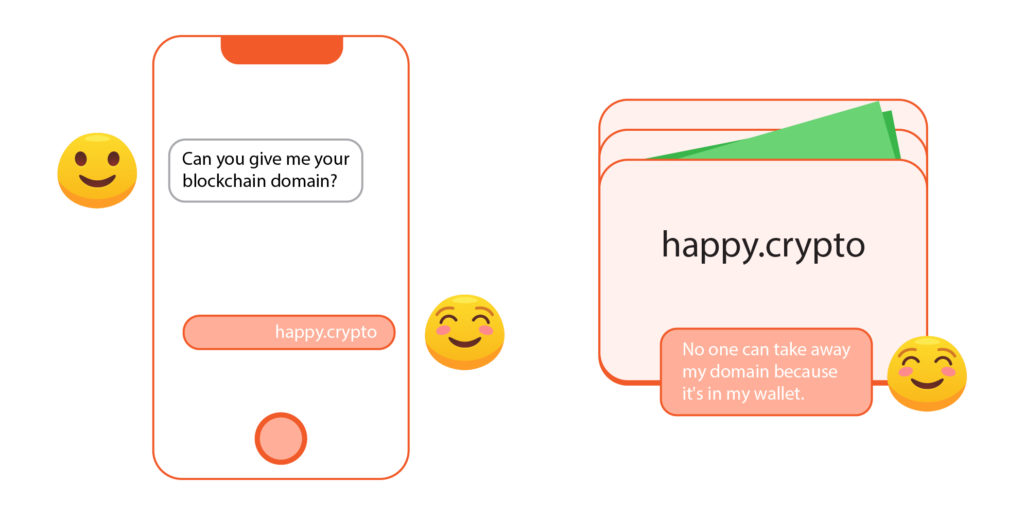 How are blockchain domains different from regular domains?
Blockchain domains are distinct from traditional domains in a number of respects. Due to the transparent and decentralized nature of blockchain technology, blockchain domains are more open and safe.
Furthermore, they provide end-users with extra capability. It's possible to create apps that operate on top of your domain, as well as check existing domain records and create software to interact with them.
Traditional domains are often one-dimensional and serve a few specific objectives. However, blockchain domains allow for far more interactivity and customization.
Why would I use a blockchain domain?
There are also more particular reasons to adopt a blockchain domain today, in addition to the benefits we just highlighted (openness, security, and improved functionality).
One benefit is the increasing ease with which cryptocurrencies may be sent.
The capacity to create decentralized websites is another significant benefit of blockchain domains. You may direct your blockchain domain name to a website hosted on a peer-to-peer network such as IPFS. It's also feasible to link domains to social media accounts in order to authenticate identification and set up email and chat protocols for your domain.
On the decentralized web, blockchain domains exist. At the moment, blockchain domains are mostly utilized by crypto users and blockchain aficionados who want to get a head start on the technology and take advantage of its perks when it comes to coin sharing.
People that are active and well-known in the crypto and blockchain area are acquiring their own domains, much as any high-profile figure in the off-chain world would desire their own.com name.
Many individuals use blockchain domains to learn more about the field and participate in decentralized technology in a more hands-on manner.
Unstoppable Domains allows you to purchase a domain and, unlike standard domains, there is no renewal charge.
Once you've purchased a domain, it's yours for life.
How to buy Domain?
You can either search for them on Angoname, or search for secondary sales on an NFT open market as OpenSea (more expensive).
At this moment, about 10% have already been claimed, but there are plenty left for you to discover.
To get an Animal Domain, please follow the steps below. (These steps are applicable for the rare ones as well.)
Search for a domain using this combination: [adjective] + [animal] (see the full list).
If you can find one with *.crypto (Example: happymouse.crypto), congratulation!
Click the button 'Unstoppable Domains' to check out.
After you complete your purchase, on the Unstoppable Domains dashboard go "My Domains" and claim the Animal Domain to your wallet.

You can view your NFT by linking your wallet to OpenSea.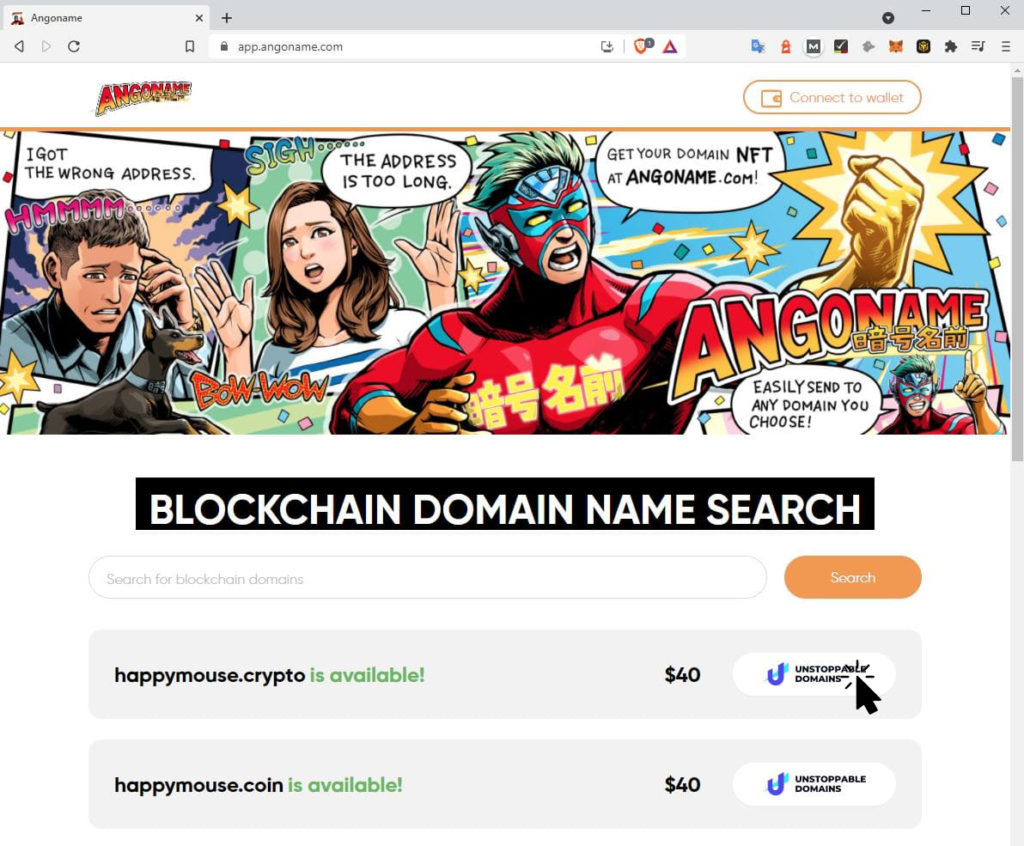 How to sell Domain?
Go to Opensea
'Connect your wallet' with KEYRING PRO Wallet Connect, or use Metamask
Go to 'My Collections'
Click on your Domain
Click 'Sell'
Set the conditions, and the price in ETH
Click 'Post your listing' (You will need to pay Ether gas fee to approve your NFT on Opensea)